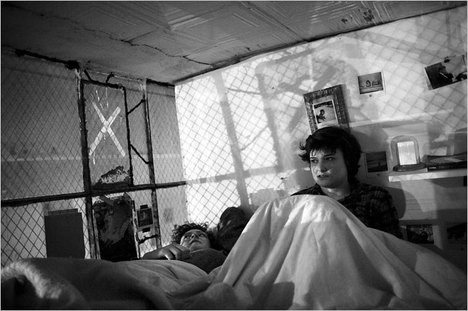 "Tryn Collins, left, and Mary Hill share small quarters at a loft building in Brooklyn that was transformed from a factory." Source of caption and photo: online version of the NYT article quoted and cited below.
New York City has had rent control in effect for decades. Economists predict that one effect of rent control is that incentives are reduced to build and maintain apartments. As a result, those seeking living space, have fewer options. (For example, the WSJ a few years ago ran a front page article explaining how some enterprising New Yorkers were living in abandoned elevator shafts.)
The article quoted below, provides additional evidence.
(p. A1) One "room" is a cramped cubby that measures, in all, perhaps 25 square feet, just enough for a full-size mattress and whatever can be stashed beneath. The first-floor rooms, in the basement, are musty and windowless, like caves. The second-floor rooms have plywood walls but no doors, only cut-out windows that overlook a kitchen cluttered with day-old dishes, a chore wheel and the odd paintbrush.
One of the residents likens her home to a "giant treehouse." Another says it is like "living in a public bathroom."
"Where the stalls are just superficial sight lines that block the other person, but you can hear everything they do," said Robyn Frank, a 23-year-old artist. She had just moved in to the McKibbin lofts in East Williamsburg, Brooklyn, and sometimes they literally become bathrooms. They are known for their giant, raucous parties; revelers occasionally urinate in the halls.
This is life in what some refer to as the McKibbin "dorms," a landing pad for hundreds of postcollegiate creative types yearning to make it as artists, and live like them too, in today's New York.
Newcomers marvel that such a place exists: two sprawling, almost identical five-story former factories filled with mostly white hip young things, smack in the middle of a neighborhood that has little in common with Williamsburg proper, its cocktail-mixing neighbor to the west.
Perhaps 300 people live in each building, which face each other and sit, respectively, at 248 and 255 McKibbin Street. Between one and eight people live in each loft. Few were born before the mid-1980s. Rents can range from $375 for one person to roughly $800 for a space.
For the full story, see:
CARA BUCKLEY. "Young Artists Find a Private Space, Only Without the Privacy." The New York Times (Weds., May 7, 2008): A1 & A17.