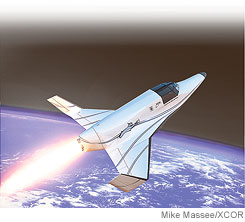 "A rendering of XCOR's Lynx rocket-powered vehicle." Source of the caption and image: online version of the WSJ article quoted and cited below.
(p. B1) A price war already is brewing among companies seeking to sign up would-be space tourists, years before the first privately financed rocketplanes are scheduled to begin flying.
XCOR Aerospace of Mojave, Calif., the latest entrant to the derby to blast thrill-seekers into the upper reaches of the atmosphere, is expected to unveil plans Wednesday for a rocket-powered vehicle that is substantially smaller, slower and less expensive to build than any of those proposed by rivals. With tickets projected at $100,000 a pop, the low-fare carrier to the heavens would hardly be cheap.
Anticipated to cost less than $10 million to build and to be more compact than many propeller planes used by recreational pilots, XCOR's Lynx vehicle is intended to carry a pilot and a single passenger at twice the speed of sound to about 37 miles above the earth. The entire outing, which would begin and end at a conventional airport and include about two minutes of suborbital zero gravity, would take less than half an hour.
That is a significantly shorter trip — and only about half the ticket price — envisioned by British billionaire Sir Richard Branson on his Virgin Galactic spaceship. A sleek and more powerful six-passenger craft, it is designed to travel at about four times the speed of sound and zoom completely out of the atmosphere — reaching true space more than 60 miles above the earth.
For the full story, see:
ANDY PASZTOR. "Economy Fare ( $100,000) Lifts Space-Tourism Race." The Wall Street Journal (Weds., March 26, 2008): B1-B2.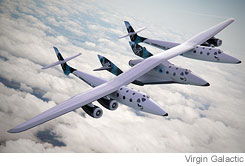 "Virgin Galactic will launch its rocket from a plane." Source of the caption and image: online version of the WSJ article quoted and cited above.