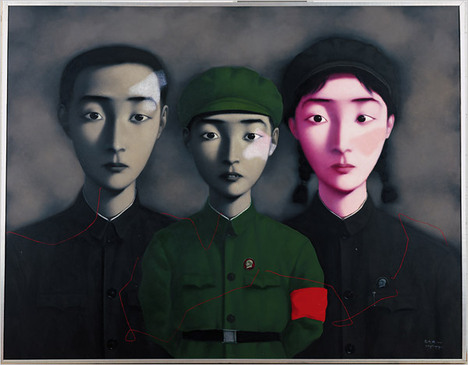 "Zhang Xiaogang's "Bloodline: The Big Family No. 3."" Source of caption and photo: online version of the NYT article quoted and cited below.
(p. B1) BEIJING — Sotheby's sold $51.77 million worth of Chinese contemporary art in three auctions in Hong Kong on Wednesday, allaying concerns that the global economic slowdown would depress the prices.
. . .
The star of that auction was a 1995 painting by Zhang Xiaogang, one of China's most prominent artists, which sold for just over $6 million, the highest price ever paid for a painting by a Chinese contemporary artist.
That oil on canvas, "Bloodline: Big Family No. 3," depicts a family of three during the tumultuous Cultural Revolution in China, when children were sometimes led to denounce their parents. Three collectors bid feverishly for the piece, which sold for far above its high estimate, about $3.4 million.
For the full story, see:
DAVID BARBOZA. "Chinese Art Continues To Soar at Sotheby's." The New York Times (Thurs., April 10, 2008): B1 & B5.
(Note: ellipsis added.)