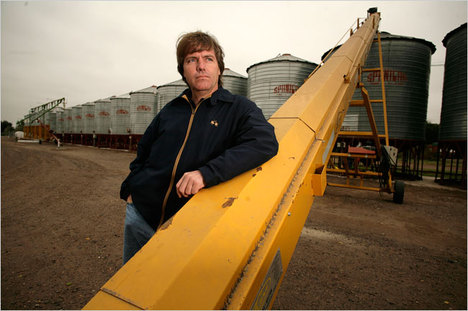 "Marcelo Marchetti, president of Cigra group." Source of caption and photo: online version of the NYT article quoted and cited below.
(p. 6) WENCESLAO ESCALANTE, Argentina — When the government decided in March to raise taxes on farmers' profits, it set off a rural revolt in Argentina. For three weeks enraged farmers blocked roads nationwide, paralyzing grain and meat sales and causing food shortages.
. . .
The farmers say they are concerned not only about profits, though the steeper taxes have cut into them. They also say Mrs. Kirchner's policies are threatening to reverse one of the great agricultural booms in Argentina's history and to snuff out a technological and entrepreneurial revolution that has made the country a leading food source in a world racked by hunger and rising food prices.
"We have an enormous historic opportunity to grow as a country, but the government wants to punish a sector that should continue to be an engine of growth," said Marcelo Marchetti, 39. "The world has opened its doors to us, and here we are fighting among ourselves."
. . .
An emergency law passed in 2002, in the midst of an economic crisis, has allowed the Kirchner government to create export taxes and keep the revenues away from governors and mayors. The Kirchners have used the doling out of those revenues to maintain political control over the provinces, which were critical to Mrs. Kirchner's election.
. . .
In Wenceslao Escalante, the Marchetti brothers, who both studied accounting in college, said the government's policies were killing their incentives to produce more. A decade ago they formed their company, Cigra, investing in the latest seed technology and farm equipment, and later buying $400,000 grain harvesters with global positioning systems.
Seven years ago the brothers expanded north into Chaco and Santiago del Estero, provinces where the land was thought to be too dry to support corn and soybeans. Today, with more advanced seeds and better crop rotation, it is considered the frontier for Argentine agriculture. But production there is threatened by declining profitability.
As the government has taken more from the farmers, international prices for the supplies to produce their crops, including fertilizers and seeds, have been rising faster than the prices of the commodities, Marcelo Marchetti said. The price of phosphorus, for example, has nearly tripled since last year, he said.
Suddenly the future seems cloudier. The brothers have decided not to make any investments over the next year.
"Everything is on hold," Mr. Marchetti said.
For the full story, see:
ALEXEI BARRIONUEVO. "In Argentina's Grain Belt, Farmers Revolt Over Taxes." The New York Times, Section 1 (Sun., April 27, 2008): 6.
(Note: ellipses added.)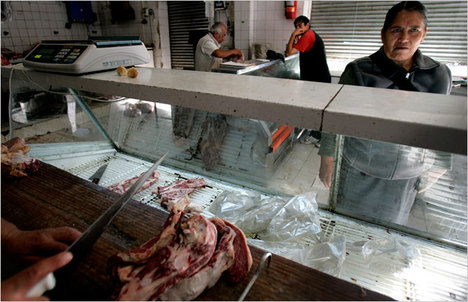 "At a butcher shop in Buenos Aires, supplies were down during strikes by farmers in rural towns like Wenceslao Escalante." Source of caption and photo: online version of the NYT article quoted and cited above.