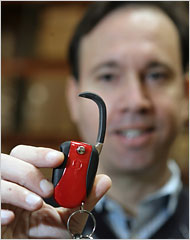 "Paul Metzger, holding the Handler, an anti-microbial device that helps users avoid touching surfaces that might carry germs." Source of caption and photo: online version of the NYT article quoted and cited below.
(p. C5) With so many people worried about getting sick — whether from the common cold and flu or exotic new strains of antibiotic-resistant bacteria — Paul and Jeffrey Metzger had every reason to hope that the germ-fighting key fob they invented would be a runaway hit.
Their device, known as the Handler, began selling last year online and in stores like Duane Reade pharmacies for about $11. It features a pop-out hook so germophobes can avoid touching A.T.M. keypads, door handles and other public surfaces where undesirable microbes may lurk. As added protection, the Handler's rubber and plastic surfaces are impregnated with tiny particles of silver to kill germs that land on the device itself.
But those little silver particles have run Maker Enterprises, the Metzger brothers' partnership in Los Angeles, into a big regulatory thicket. The Metzgers belatedly realized that the Environmental Protection Agency might decide that a 1947-era law that regulates pesticides would apply to antimicrobial products like theirs.
The agency ruled last fall that the law covered Samsung's Silvercare washing machine. Samsung was told it would have to register the machine as a pesticide, a potentially costly and time-consuming process, because the company claims the silver ions generated by the washer kill bacteria in the laundry.
The Metzgers halted production of their key fob while they sought legal guidance on how to avoid a similar fate.
Their quandary highlights a challenge facing the growing number of entrepreneurs who have ventured into nanotechnology, a field that gets its name from its reliance on materials so small their dimensions are measured in nanometers, or billionths of a meter.
. . .
"They don't really know how they want to register these particles," said Tracy Heinzman, a lawyer in Washington who deals frequently with the E.P.A. "There's no clear path forward."
More broadly, the limbo into which the Handler has tumbled shows how the limited resources of agencies like the E.P.A. can combine with creaky regulations to act as a brake on innovation. "The marketplace is always ahead of the E.P.A.," Ms. Heinzman said.
For the full story, see:
BARNABY J. FEDER. "Small Business; Fighting Germs and Regulators; Pesticide Rules May Apply to Tiny Particles That Kill Microbes." The New York Times (Thurs., March 6, 2008): C5.
(Note: the title of the online version was "Small Business; New Device for Germophobes Runs Into Old Law.")
(Note: ellipsis added.)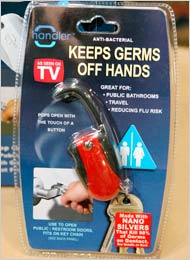 "Production of the Handler has ceased for the time being." Source of caption and photo: online version of the NYT article quoted and cited above.