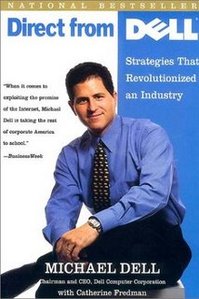 Source of book image: http://ramz-thoughts.blogspot.com/2007/12/new-addition-to-my-book-shelf.html
I have had Direct from Dell on my 'to-read' list for years, and it finally made it to the top. The book has some interesting anecdotes, and some useful generalizations, but not as many as I had hoped.
In fairness, if I had read the book closer to its publication year, in 1999, maybe some of the observations would have seemed fresher, that today seem like stale clichés.
For example, it is clever to quote (p. 209) the hockey player Wayne Gretzky as saying that he doesn't skate to where the puck is; he skates to where it will be. And then apply the saying to business by advising that managers skate, not to where the profits currently are, but to where the profits will be in the future. Reading this in Dell's book did not excite me, because I had already read it in Christensen and Raynor. But Dell's book came out before Christensen and Raynor, and it's not a failing of the Dell book that I had read the Christensen and Raynor book first.
But some of what Dell writes, was a cliché even back in 1999. For example, it is a cliché that customers should matter; but simply saying 'listen to your customers' is not very useful. Sometimes customers are not very articulate about what they would value, and sometimes they need to be educated, and sometimes your current customers might not buy an innovation that other potential customers might love.
Christensen and Raynor in The Innovator's Solution, have emphasized the desirability of thinking about what job customers need to have done.
One useful bit of advice in Direct from Dell is that companies should segment themselves into different units to serve different kinds of customers. This might be a useful stratagem to make it easier to execute Christensen and Raynor's advice. (But it goes against another common dictum in management books: achieve economies by cutting out duplication and by achieving economies of scale.)
The book has some interesting examples and observations, but the signal to noise ratio is not as high as in the very best management books by former CEOs, such as in Andy Groves' Only the Paranoid Survive and in Jack Welch's Jack: Straight from the Gut.
References:
Christensen, Clayton M., and Michael E. Raynor. The Innovator's Solution: Creating and Sustaining Successful Growth. Boston, MA: Harvard Business School Press, 2003.
Dell, Michael. Direct from Dell: Strategies That Revolutionized an Industry. New York: HarperCollins Publishers, Inc., 1999.
Grove, Andrew S. Only the Paranoid Survive: How to Exploit the Crisis Points That Challenge Every Company. New York: Bantam Books, 1999.
Welch, Jack. Jack: Straight from the Gut. New York: Warner Business Books, 2001.