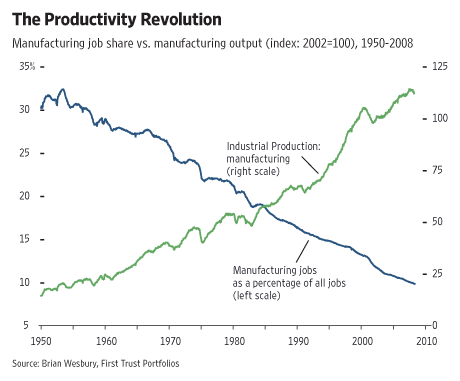 Source of graph: online version of the WSJ article quoted and cited below.
(p. A23) . . . the impact of our technological innovation has helped lift untold numbers out of poverty.
This technology has created massive amounts of change. Like the Industrial Revolution before it, the current transformation is anything but pain-free. It's what Joseph Schumpeter called creative destruction. Google, Craigslist and Microsoft have been prospering. General Motors, United Airlines and the New York Times have not. In the midst of layoffs in the newsroom, it's hard to see anything good happening in the rest of the economy.
For the full commentary, see
BRIAN WESBURY. "Change We Can Believe In Is All Around Us." The Wall Street Journal (Weds., June 11, 2008): A23.
(Note: ellipsis added.)