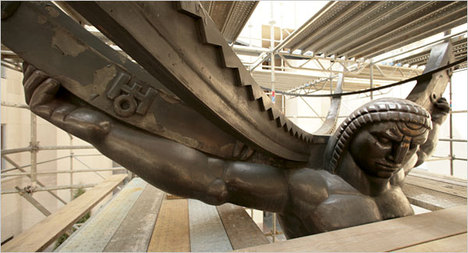 "The Atlas at Rockefeller Center has years' worth of lacquer and wax, in addition to the weight of the heavens, to bear. The four-story-high statue will undergo a six-week cleaning." Source of the caption and photo: online version of the NYT article quoted and cited below.
(p. 31) Of course, he's angry. Of course, he's disheartened. The weight of all the heavens has been on his shoulders for 71 years and, according to the mythological timetable, he has exactly forever to go.
But only a close-up view of Atlas, at the base of the International Building in Rockefeller Center, reveals the powerful paradox of strength and despondency created by Lee Lawrie and Rene Chambellan, the artists behind the four-story-high, seven-ton bronze.
. . .
"Everyone reads the substance of things through the surface," said Jeffrey Greene, president of EverGreene Painting Studios, which is about to begin a six-week cleaning of Atlas, down to the original patina.
. . .
A snapshot staple of any visitor's souvenir New York album shows Atlas and the 21-foot-diameter armillary sphere on his shoulders (representing the heavens with which he was burdened by Zeus as a member of the losing Titan team), silhouetted in front of the twin spires of St. Patrick's Cathedral across Fifth Avenue.
. . .
On Monday, Mr. Greene said, a translucent scrim will be wrapped around the scaffolding. After that, the statue will get a low-pressure steam bath. Any residue will be cleaned with a gel solvent. A clear acrylic protective coating will be applied and the statue will be hand-waxed to a sheen that is more polished at sculptural highlights and flatter in the interstices.
One block south, Atlas's popular brother, Prometheus (by Paul Manship), was restored nine years ago.
For the full story, see:
DAVID W. DUNLAP. "Bringing a Smile (Well, a Shine) to a Burdened Statue of Atlas." The New York Times, Section 1 (Sun., May 4, 2008): 31.
(Note: ellipses added.)