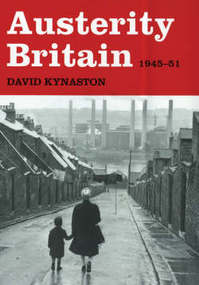 Source of book image:
http://www.tbpcontrol.co.uk/TWS/CoverImages_0/074/757/0747579857.jpg
(p. B7) As Mr. Kynaston sets his scene, what immediately becomes clear is that the recent past is not so recent. "Britain in 1945. No supermarkets, no motorways, no teabags, no sliced bread, no frozen food. … No launderettes, no automatic washing machines, wash day every Monday, clothes boiled in a tub, scrubbed on the draining board. …Abortion illegal, homosexual relationships illegal, suicide illegal, capital punishment legal. White faces everywhere." And with all those white faces was the single overwhelming, blanketing fact of deprivation, a bare-bones existence. Britain had just prevailed in a struggle for its very survival, but victory never looked so grim.
. . .
The Labor Party won the 1945 election in a landslide on a promise of national planning. The debate now was how far to take socialism, with the Laborites divided between the hell-bent nationalizers and the more market-oriented Keynesians. In 1946 Keynes himself admitted (though privately) that "I find myself more and more relying for a solution of our problems on the invisible hand" of the market, "which I tried to eject from economic thinking 20 years ago."
. . .
Almost invisible in Mr. Kynaston's sparkling panorama is a sign of what was to come. One Conservative politician was out of step not only with Labor's policies but even with the prevailing views of her own party. Margaret Roberts was just about alone in condemning the welfare state as "pernicious," destructive of the national character. In 1951, a year after Labor's second postwar electoral victory, she got married. Her husband's name was Thatcher.
For the full review, see:

Barry Gewen. "Books of The Times – In Postwar Britain, the Grim Face of Victory." The New York Times (Thurs., June 12, 2008): B7.
(Note: ellipses within the Kynaston quote are in the original; ellipses between paragraphs are added.)