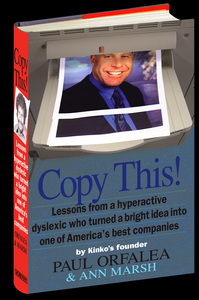 Source of book image: http://www.paulorfalea.com/downloads/CopyThis_1.jpg
(p. R7) Some entrepreneurial titles are written — and resonate with readers — for more personal reasons.

Paul Orfalea, the founder of Kinko's, says he wrote his book, "Copy This!: Lessons from a Hyperactive Dyslexic Who Turned a Bright Idea Into One of America's Best Companies," because he wanted parents of kids with dyslexia to know that their children could succeed in life.
Workman Publishing, an independent publisher based in New York, initially printed 35,000 copies in 2005. Today, after two additional printings, there are 50,000 hardcovers in print. A paperback edition was published in March 2007, with a reworked title.
For the full story, see:

JEFFREY A. TRACHTENBERG. "Running the Show; Me, Me, Me; So many entrepreneurs are writing books about how they made it. Their books, though, aren't nearly as successful." The Wall Street Journal (Mon., June 16, 2008): R7.