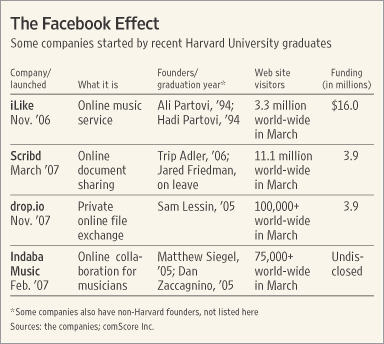 Source of graphic: online version of the WSJ article quoted and cited below.
(p. B7) One day during Trip Adler's sophomore year at Harvard University, he saw fellow undergraduates Mark Zuckerberg and Dustin Moskovitz outside their dormitory with suitcases and boxes. When Mr. Adler asked what the two — who happened to be Facebook Inc.'s co-founders — were doing, Mr. Moskovitz lightly replied that they were moving from Cambridge, Mass., to Silicon Valley "to make Facebook big."
"I was so jealous," recalls Mr.Adler, now 23 years old. "I thought, 'I've got to find an idea and drop out of Harvard.'"
Mr. Adler didn't leave school, but after graduating in 2006, he did start an online document-sharing company. San Francisco-based Scribd Inc., employs 12 people and attracts 11.1 million monthly visitors, according to Web-tracking company comScore Inc. It has raised nearly $3.9 million from Redpoint Ventures and other venture-capital and individual investors.
Mr. Adler is just one of the Harvard students who have caught start-up fever since Facebook, founded when Mr. Zuckerberg was at Harvard in 2004, exploded in popularity. Other recent Harvard-born start-ups include Internet companies Kirkland North Inc., Drop.io Inc. and Labmeeting Inc. And Facebook has become a model for these start-ups on many fronts, from the look of company Web sites to their corporate strategies.
For the full story, see:
VAUHINI VARA. "ENTERPRISE; Facebook Ignites Entrepreneurial Spirit at Harvard Students, Graduates Start Firms, Using The Site as a Model." The Wall Street Journal (Tues., May 20, 2008): B7.