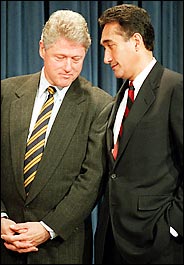 "Henry G. Cisneros, secretary of housing and urban development, speaking to President Bill Clinton on Dec. 19, 1994, in Washington." Source of caption and photo: online version of the 2006 NYT article cited below.
(p. 1) SAN ANTONIO — A grandson of Mexican immigrants and a former mayor of this town, Henry G. Cisneros has spent years trying to make the dream of homeownership come true for low-income families.

As the Clinton administration's top housing official in the mid-1990s, Mr. Cisneros loosened mortgage restrictions so first-time buyers could qualify for loans they could never get before.
Then, capitalizing on a housing expansion he helped unleash, he joined the boards of a major builder, KB Home, and the largest mortgage lender in the nation, Countrywide Financial — two companies that rode the housing boom, drawing criticism along the way for abusive business practices.
And Mr. Cisneros became a developer himself. The Lago Vista development here in his hometown once stood as a testament to his life's work.
Joining with KB, he built 428 homes for low-income buyers in what was a neglected, industrial neighborhood. He often made the trip from downtown to ask residents if they were happy.
"People bought here because of Cisneros," says Celia Morales, a Lago Vista resident. "There was a feeling of, 'He's got our back.' "
But Mr. Cisneros rarely comes around anymore. Lago Vista, like many communities born in the housing boom, is now under stress. Scores of homes have been foreclosed, including one in five over the last six years on the community's longest street, Sunbend Falls, according to property records.
While Mr. Cisneros says he remains proud of his work, he has misgivings over what his passion has wrought. He insists that the worst problems developed only after "bad actors" hijacked his good intentions but acknowledges that "people came to homeownership who should not have been homeowners."
For the full story, see:
DAVID STREITFELD and GRETCHEN MORGENSON. "The Reckoning; Man in the Middle; Building Flawed American Dreams; Helping Low-Income Families Buy Homes and Watching the Failures." The New York Times, Section 1 (Sun., October 19, 2008): 1 & 23.
See also:
DAVID JOHNSTON and NEIL A. LEWIS. "Inquiry on Clinton Official Ends With Accusations of Cover-Up." The New York Times (Thurs., January 19, 2006).
"THE DEVELOPER Henry Cisneros in his office in San Antonio with Sylvia Arce-Garcia, an executive assistant. He is the head of CityView, a developer." Source of caption and photo: online version of the 2008 NYT article cited above.