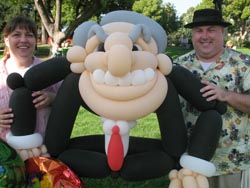 "Don Caldwell, who made an effigy of California state Sen. Jack Scott in protest of his proposed balloon ban, with his wife, Laura." Source of caption and photo: online version of the WSJ article quoted and cited below.
(p. A1) California state Sen. Jack Scott says he didn't intend to "be a party pooper." It's just that helium-filled foil balloons — like those found at hospital gift shops and office parties — are dangerous. They float into electric lines and cause power outages, more than 800 in California last year, utilities say.

He drafted a bill to ban foil balloons; it sailed through the state Senate and now awaits a vote in the Assembly.
He didn't expect the issue to blow up the way it did.
Last month, at a pro-balloon rally in a Pasadena park, protesters cheered as a group of children pounced on an effigy of Mr. Scott — made entirely of balloons.
"There's a leg, get that leg!" shouted John Kobylt, a radio talk-show host who broadcast the protest live. "Look what's left of him!" he said, holding up a sagging cluster of punctured latex. "That's what happens when you ban our balloons."
Wedding planners, party organizers and balloon artists all rallied to the cause. The industry body, the Balloon Council, set up a Web site — www.savetheballoons.com — that urges people to contact their state representatives. Members began a grass-roots campaign to garner support.
"My first reaction to this was, 'You've got to be kidding. Is this a joke?'" recalled Barry Broad, the lobbyist they hired to spearhead the pro-balloon effort. "Balloons (p. A16) and ice-cream cones are associated with the lighthearted parts of life, and now suddenly they have this evil-twin side?"
For the full story, see:
AMY KAUFMAN. "California Targets New Menace: Helium-Filled Foil Balloons; State Senate Sees Danger and Cracks Down, But Party Planners Fight Back; the $100 Fine." The Wall Street Journal (Tues., July 15, 2008): A1 & A16.