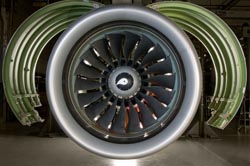 "Pratt & Whitney hopes its Geared Turbo Fan engine will defy skeptics and win it a spot on the next generation of jets from Boeing and Airbus." Source of the caption and photo: online version of the WSJ article quoted and cited below.
(p. B1) Once every 20 years or so, the companies that make jet engines battle it out for a chance to power the next generation of single-aisle airplanes.
. . .
General Electric Co. unveiled plans to develop a new family of engine cores that it said would vault it ahead of United Technologies Corp.'s Pratt & Whitney, which has a two-year head start on a novel engine that promises to burn 12% less fuel than today's best engines.
GE, which is working with French partner Safran SA, said its engine will have fewer moving parts than Pratt & Whitney's, and will deliver equal or better performance. "We've been pretty quiet for the last couple of years, but we've been doing plenty of work in secret," said GE Aviation President David Joyce, in an interview. "So be it. Game on."
. . .
Besides GE and Pratt & Whitney, the other major player in the industry is Britain's Rolls-Royce PLC. Hoping to dominate the market, all three companies plan to spend well over $1 billion on their new engines, stretching the limits of their technology. Developing fuel-efficient engines requires the use of exotic alloys and ceramic coatings that can cope with internal engine temperatures that would be above the melting points of untreated metal components.
The next generation of engines may look radically different from those used today. One design that GE and Rolls-Royce are exploring separately would have a double row of propellers at the (p. B3) back end of the engine, with no protective covering. Such an engine would be noisier and significantly slower than today's planes. It also would have to be mounted at the rear of the airplane, but the companies say it would consume as much as 24% less fuel.
. . .
Pratt & Whitney had hoped to get a boost in the engine race by promoting a design called the Geared Turbo Fan. It uses a gearbox at the front of the engine that allow various fans and compressors to turn at different speeds for greater efficiency and less noise. . . .
. . .
The company has been working on the gear technology for almost 20 years, investing almost $1 billion so far, Mr. Finger said. He said that in addition to fuel and emissions savings, the new engine will cut noise by a factor of two and reduce maintenance by 40% because it will have fewer moving parts throughout the engine.
For the full story, see:
J. LYNN LUNSFORD and DANIEL MICHAELS. "Jet-Engine Makers Launch New War; Billions of Dollars at Stake in Race To Develop Efficient Power Source For Next Wave of Boeing, Airbus Planes." The Wall Street Journal (Mon., July 14, 2008): B1 & B3.
(Note: ellipses added.)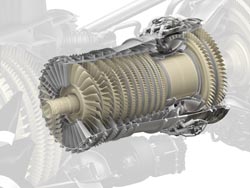 "GE is creating an engine with fewer moving parts than Pratt & Whitney's design, and seeks to deliver equal or better performance." Source of the caption and photo: online version of the WSJ article quoted and cited above.