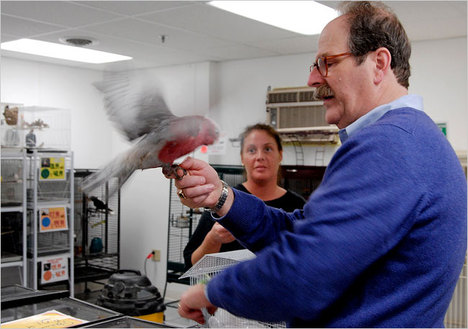 "Dave Ratner, owner of four pet stores in Western Massachusetts, is worried about being able to pay into a state health benefits plan." Source of caption and photo: online version of the NYT article quoted and cited below.
(p. A16) AGAWAM, Mass. — Dave Ratner, owner of Dave's Soda and Pet City, is pretty sure he is about to get "whacked" by the new state law that requires employers to contribute to health care benefits for their workers or pay a $295-per-employee penalty. In order to avoid thousands of dollars in fines, Mr. Ratner is considering not adding part-time workers at his four pet supply stores in Western Massachusetts.

But the penalty in Massachusetts is picayune compared with what some health experts believe Senator Barack Obama, the Democratic presidential nominee, might impose as part of his plan to provide affordable coverage for the uninsured. Though Mr. Obama has not released details, economists believe he might require large and medium companies to contribute as much as 6 percent of their payrolls.
That, Mr. Ratner said, would be catastrophic to a low-margin business like his, which has 90 employees, 29 of them full-time workers who are offered health benefits.
"To all of a sudden whack 6 to 7 percent of payroll costs, forget it," he said. "If they do that, prices go up and employment goes down because nobody can absorb that."
For the full story, see:

KEVIN SACK. "Businesses Wary of Details in Obama Health Plan." The New York Times (Mon., October 27, 2008): A16.