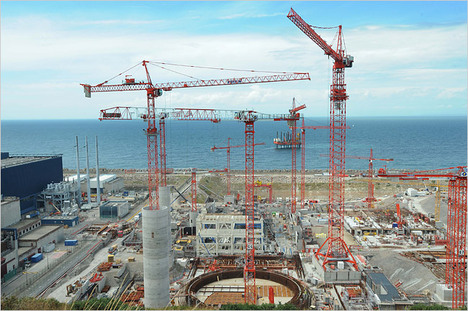 "France is constructing a nuclear reactor, its first in 10 years, in Flamanville, but the country already has 58 operating reactors." Source of caption and photo: online version of the NYT article quoted and cited below.
(p. 6) FLAMANVILLE, France — It looks like an ordinary building site, but for the two massive, rounded concrete shells looming above the ocean, like dusty mushrooms.

Here on the Normandy coast, France is building its newest nuclear reactor, the first in 10 years, costing $5.1 billion. But already, President Nicolas Sarkozy has announced that France will build another like it.
. . .
Nuclear power provides 77 percent of France's electricity, according to the government, and relatively few public doubts are expressed in a country with little coal, oil or natural gas.
With the wildly fluctuating cost of oil, anxiety over global warming from burning fossil fuels and new concerns about the impact of biofuels on the price of food for the poor, nuclear energy is getting a second look in countries like the United States and Britain. Even Germany, committed to phasing out nuclear power by 2021, is debating whether to change its mind.
For the full story, see:
STEVEN ERLANGER. "France Reaffirms Its Faith in Future of Nuclear Power." The New York Times, First Section (Sun., August 17, 2008): 6. (Also on p. 6 of the NY edition)
(Note: ellipsis added.)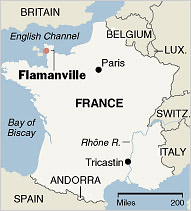 Source of map: online version of the NYT article quoted and cited above.