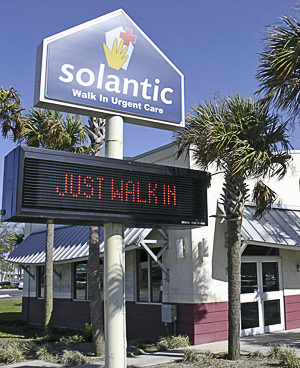 "An urgent-care clinic in Atlantic Beach, Fla." "Source of caption and photo: online version of the WSJ article quoted and cited below.
(p. D1) When a heavy metal door swung over her 14-year-old son's foot, ripping the nail almost completely off his big toe, Tina Mobley didn't want to take her chances in a crowded hospital emergency room or wait for an appointment at the pediatrician's office the next day. Instead, she drove to an urgent-care clinic inside a Wal-Mart in Yulee, Fla., near her rural home. Within minutes, the doctor on duty numbed the pain with an injection, removed the nail, and cleaned and bandaged the injury.

Patients who need immediate care for injuries and illness, be it a nail-gun puncture or a severe stomach bug, are increasingly turning to walk-in urgent-care clinics. These facilities aim to fill the gap between the growing shortage of primary-care doctors and a shrinking number of already-crowded hospital emergency departments, with no appointment necessary and extended evening and weekend hours. Urgent-care clinics are staffed by physicians, offer wait times as little as a few minutes and charge $60 to $200 depending on the procedure — a fraction of the typical $1,000-plus emergency department visit. Some offer discounts and payment plans for the uninsured; for those with coverage, co-payments vary by insurance plan but may be less than half the amount of an ER visit, which can range from $50 to $200.

While the Yulee clinic that treated Ms. Mobley's son is one of three operated inside Wal-Mart stores by Jacksonville, Fla.-based Solantic, urgent-care centers aren't to be confused with the new crop of retail health clinics popping up in drugstores, which are run by nurse practitioners who prescribe medicine for minor illnesses and provide vaccinations. Urgent-care-center physicians and other medical staffers can put casts on broken bones, sew up lacerations, provide intravenous fluids for dehydrated patients, and deploy advanced life-support equipment for both adults and children. They often have equipment not available in physicians' offices, such as X-rays.
For the full story, see:
LAURA LANDRO. "THE INFORMED PATIENT; Options Expand For Avoiding Crowded ERs." The Wall Street Journal (Weds., August 6, 2008): D1-D2.