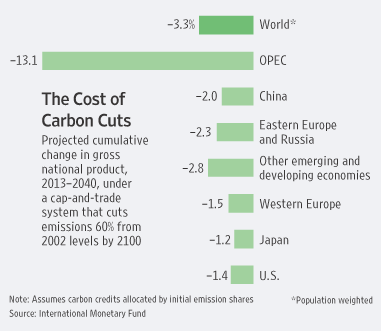 Source of graph: online version of the WSJ article quoted and cited below.
(p. A10) Leaders of the Group of Eight major industrialized economies, meeting in Japan, issued their first long-term target for cutting global-warming emissions. But their pronouncement failed to address the two toughest questions: How will the world do it, and who will pay?

The answer to the money question is clear: Consumers will pay — at the gasoline pump, at the car dealership and on the monthly electric bill. If the campaign against global warming gets serious, it will transform today's esoteric environmental threat into a fundamental pocketbook issue for people from Boston to Beijing.
For the full story, see:
JEFFREY BALL. "As Climate Issue Heats Up, Questions of Cost Loom." The Wall Street Journal (Fri., July 10, 2008): A10.