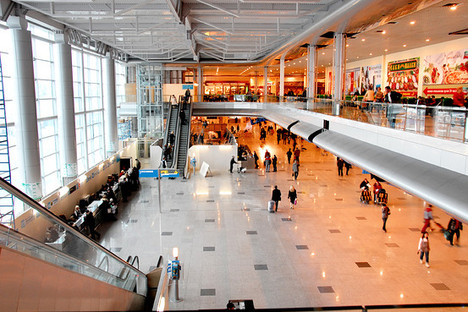 "Investors renovated a terminal at Domodedovo and oversaw construction of a train line to Moscow." Source of caption and photo: online version of the WSJ article quoted and cited below.
(p. B9) MOSCOW — A heated battle for passengers between the Russian capital's main airports offers an unlikely model of competition for the aviation industry.

In most cities, airports are monopolies. Even in cities that have more than one, including New York, Paris and Tokyo, airports are usually owned by the same operator. That means airlines can rarely make the kind of choices passengers take for granted, such as choosing an airport for its efficiency, shopping or lounges.
Not so in Moscow, where two international airports, Domodedovo and Sheremetyevo, owned by rival organizations, battle for business. The result is lower fees, better service and fast-improving facilities all around.
Domodedovo Airport, for example, recently convinced several top airlines to make it their Russian base, thanks to a major modernization that added more than 20 new restaurants, jewelry boutiques and a shop where passengers can rent DVDs to watch in booths.
Sheremetyevo Airport responded by building a fast rail link to Moscow, complete with a Starbucks at the airport station.
Moscow's airport rivalry highlights a paradox of the global aviation industry: Airlines compete fiercely with each other for customers, but they face many monopolist suppliers, such as air-traffic control systems, fuel distributors and airports. Resulting costs and poor services get passed on to travelers.
. . .
During Russia's privatization drive of the 1990s, local investors bought Domodedovo, which was previously Moscow's airport serving Soviet Central Asia. The investors, grouped into an upstart charter-airline operator, East Line Group, renovated a terminal at Domodedovo and oversaw construction of a train line to Moscow.
East Line charged airlines landing and operating fees that undercut Sheremetyevo by around 30%. For passengers, Domodedovo's rail link guaranteed a 40-minute trip to downtown Moscow. Private Russian carriers, largely frozen out of Aeroflot's base at Sheremetyevo, expanded quickly at the spacious Domodedovo.
East Line's big break came in 2003, when British Airways announced it would switch from Sheremetyevo to Domodedovo.
"The authorities were shocked that a major airline would leave the government airport," recalls Daniel Burkard, BA's former country manager for Russia.
For the full story, see:
DANIEL MICHAELS. "Moscow Points the Way With Airport Competition; While Most Nations Sport Monopolies, Rivalry Between Two Russian Gateways Ushers in Improvements for Carriers, Travelers." The Wall Street Journal (Mon., DECEMBER 1, 2008): B9.
(Note: ellipsis added.)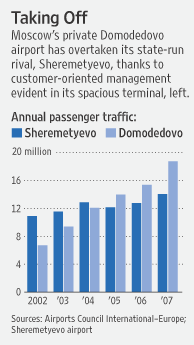 Source of graph: online version of the WSJ article quoted and cited above.