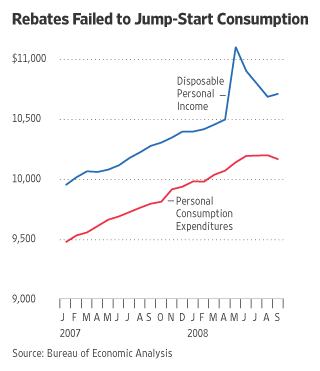 Source of graph: online version of the WSJ commentary quoted and cited below.
(p. A15) The incoming Obama administration and congressional Democrats are now considering a second fiscal stimulus package, estimated at more than $500 billion, to follow the Economic Stimulus Act of 2008. As they do, much can be learned by examining the first.

The major part of the first stimulus package was the $115 billion, temporary rebate payment program targeted to individuals and families that phased out as incomes rose. Most of the rebate checks were mailed or directly deposited during May, June and July.

The argument in favor of these temporary rebate payments was that they would increase consumption, stimulate aggregate demand, and thereby get the economy growing again. What were the results? The chart nearby reveals the answer.

The upper line shows disposable personal income through September. Disposable personal income is what households have left after paying taxes and receiving transfers from the government. The big blip is due to the rebate payments in May through July.

The lower line shows personal consumption expenditures by households. Observe that consumption shows no noticeable increase at the time of the rebate. Hence, by this simple measure, the rebate did little or nothing to stimulate consumption, overall aggregate demand, or the economy.

These results may seem surprising, but they are not. They correspond very closely to what basic economic theory tells us. According to the permanent-income theory of Milton Friedman, or the life-cycle theory of Franco Modigliani, temporary increases in income will not lead to significant increases in consumption. However, if increases are longer-term, as in the case of permanent tax cut, then consumption is increased, and by a significant amount.
For the full commentary, see:
JOHN B. TAYLOR. "Why Permanent Tax Cuts Are the Best Stimulus." Wall Street Journal (Tues., NOVEMBER 25, 2008): A15.