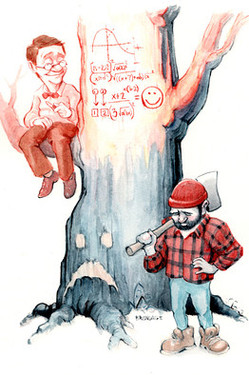 Source of cartoon: online version of the WSJ article quoted and cited below.
Labor is usually viewed as a victim of the process of creative destruction, because some old jobs are destroyed when a new technology replaces an old one. But part of the process is the creation of new jobs, and on average, the new jobs are created have better characteristics than the old jobs that are destroyed.
The article quoted below, discusses some of the characteristics that make a job better or worse.
(p. D2) Nineteen years ago, Jennifer Courter set out on a career path that has since provided her with a steady stream of lucrative, low-stress jobs. Now, her occupation — mathematician — has landed at the top spot on a new study ranking the best and worst jobs in the U.S.

"It's a lot more than just some boring subject that everybody has to take in school," says Ms. Courter, a research mathematician at mental images Inc., a maker of 3D-visualization software in San Francisco. "It's the science of problem-solving."
The study, released Tuesday from CareerCast.com, a new job site, evaluates 200 professions to determine the best and worst according to five criteria inherent to every job: environment, income, employment outlook, physical demands and stress. (CareerCast.com is published by Adicio Inc., in which Wall Street Journal owner News Corp. holds a minority stake.)
The findings were compiled by Les Krantz, author of "Jobs Rated Almanac," and are based on data from the U.S. Bureau of Labor Statistics and the Census Bureau, as well as studies from trade associations and Mr. Krantz's own expertise.
According to the study, mathematicians fared best in part because they typically work in favorable conditions — indoors and in places free of toxic fumes or noise — unlike those toward the bottom of the list like sewage-plant operator, painter and bricklayer. They also aren't expected to do any heavy lifting, crawling or crouching — attributes associated with occupations such as firefighter, auto mechanic and plumber.
For the full story, see:
SARAH E. NEEDLEMAN. "Doing the Math to Find the Good Jobs; Mathematicians Land Top Spot in New Ranking of Best and Worst Occupations in the U.S." The Wall Street Journal (Tues., Jan. 6, 2008): D2.
For the ranking of 200 jobs, and the components that went into the ranking, see:
http://www.careercast.com/jobs/content/JobsRated_Top200Jobs