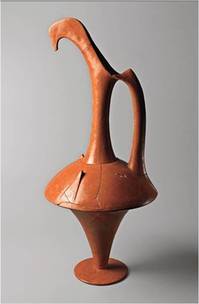 "This terra-cotta vessel, from the Hittite site in Turkey, looks strikingly modern." Source of photo and caption: online version of the WSJ article quoted and cited below.
(p. D7) The show whisks us along on complementary interlocking narratives that take the visitor down a spaghetti junction of cultural confluences. We learn that in the 1950s a prominent Turkish archaeologist excavated a site known locally as Kultepe. It yielded a vast hoard of cuneiform tablets that record in detail the town's trade in copper and numerous aspects of its domestic life, including letters home — many of which are on display. As a result, we know that Assyrian merchants in the copper trade moved en masse to Central Anatolia and founded the town, and many like it, to feed the burgeoning trade in what Ms. Aruz calls "the luxury goods of the time." She adds that "potentates competed to possess artifacts like these — the more distant and exotic their origins, the more desirable because their possession denoted power and prestige."

Visitors should, in particular, feast their eyes on the smoothly burnished terra-cotta spouted vessels from Kultepe and Hittite sites in Turkey. Outlandishly geometric and eerily modern, futuristic even, they alone are worth the price of admission.
In following the visual motif of bull-leaping acrobats from Crete to Anatolia to Egypt on everything from Minoan vases to cylinder seals and carved boxes, the show makes the point that commerce in goods brought with it commerce in entertainment, music, ideas, gods and cults. Suddenly images of Sphinxes and Gryphons pop up all over the 15th-century B.C. geosphere, as do toys and board games and educational institutions.
For the full story, see:
SARAH E. NEEDLEMAN. "Doing the Math to Find the Good Jobs; Mathematicians Land Top Spot in New Ranking of Best and Worst Occupations in the U.S." The Wall Street Journal (Tues., Jan. 6, 2008): D2.
For the case for the complementarity between capitalism and culture, see:
Cowen, Tyler. Creative Destruction: How Globalization Is Changing the World's Cultures. Princeton, NJ: Princeton University Press, 2002.

"The cuneiform inscription . . . is the earliest-known written appearance of the word "freedom" (amagi), or "liberty." It is taken from a clay document written about 2300 B.C. in the Sumerian city-state of Lagash." Source of the cuneiform and the caption: http://www.libertyfund.org/aboutlogo.htm
(Note: ellipsis added.)