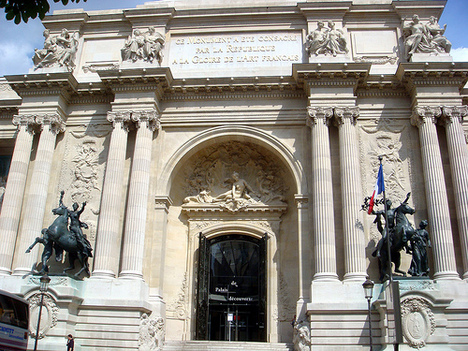 The Palace of Discovery (aka Palais de la Decouverte) in Paris. Source of photo: http://www.flickr.com/photos/paris2e/2524827592/
Near the beginning of World War II, the 1937 Palace of Discovery in Paris, was a popular source of hope for the future:
(p. 206) An unexpectedly popular draw at the exposition was a relatively small hall hidden away behind the Grand Palais. The Palace of Discovery, as it was called, attracted more than 2 million visitors, five times the number that visited the modern art exhibit. They came for wonder and hope. The wonder was provided by exhibits including a huge electrostatic generator, like something from Dr. Frankenstein's lab, two enormous metal spheres thirteen feet apart, across which a 5-million-volt current threw a hissing, crackling bolt of electricity. The hope came from the very nature of science itself. Designed by a group of liberal French researchers, the Palace of Discovery was intended to be more a "people's university" than a stuffy museum, a place to hear inspiring lectures on the latest wonders of science, messages abut technological confidence and progress for the peoples of the world.
Source:
Hager, Thomas. The Demon under the Microscope: From Battlefield Hospitals to Nazi Labs, One Doctor's Heroic Search for the World's First Miracle Drug. New York: Three Rivers Press, 2007.