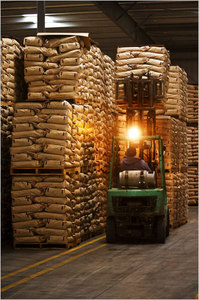 "Millions of pounds of government-owned milk powder stored in a warehouse in Fowler, Calif." Source of caption and photo: online version of the NYT article quoted and cited below.
(p. B1) FOWLER, Calif. — The long economic boom, fueled by easy credit that allowed people to spend money they did not have, led to a huge oversupply of cars, houses and shopping malls, as recent months have made clear. Now, add one more item to the list: an oversupply of cows.
And it turns out that shutting down the milk supply is not as easy as closing an automobile assembly line.
As a breakneck expansion in the global dairy industry turns to bust, Roger Van Groningen must deal with the consequences. In a warehouse that his company runs here, 8 to 20 trucks pull up every day to unload milk powder. Bags of the stuff — surplus that nobody will buy, at least not at a price the dairy industry regards as acceptable — are unloaded and stacked into towering rows that nearly fill the warehouse.
Mr. Van Groningen's company does not own the surplus milk powder, but merely stores it for the new owners: the taxpayers of the United States. To date, the government has agreed to buy about $91 million worth of milk powder.
. . .
(p. B5) Government price supports provide a price floor for agricultural products as a way of keeping farmers afloat during hard times and ensuring an adequate food supply.
The Agriculture Department has committed to buying 111.6 million pounds of milk powder at 80 cents a pound, for roughly $91 million, which includes some handling fees. . . .
. . .
. . . the agency has not decided what to do with the cache of milk powder in California.
Some critics of farm subsidies argue that price support programs are antiquated and allow farmers to continue producing even when the economics make no sense, as taxpayers will always buy up the excess production.
"They don't want to downsize or respond to the market signal. They want to keep producing," said Kenneth Cook, president of the Environmental Working Group, a Washington research organization that has long been critical of the government's farm policy. "Once you get in a jam like this, it becomes our collective problem."
For the full story, see:
ANDREW MARTIN. "Awash in Milk and Headaches; Cows Keep Producing Despite Drop in Demand." The New York Times (Fri., January 1, 2009): B1 & B5.
(Note: ellipses added.)
(Note: the online version of the article is dated January 1, 2009, and is entitled "As Recession Deepens, So Does Milk Surplus.")
"Arthur Machado, a dairy farmer in Fresno, Calif., has to keep feeding his herd of more than 300 cows. He plans to sell them and take up a more stable commodity." Source of caption and photo: online version of the NYT article quoted and cited above.