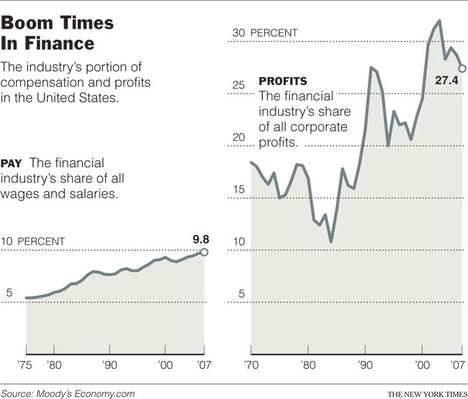 Source of graphs: online version of the NYT article quoted and cited below.
(p. 3) Nonetheless, a significant portion of the finance boom also seems to have been unrelated to economic performance and thus unsustainable. Benjamin M. Friedman, author of "The Moral Consequences of Economic Growth," recalled that when he worked at Morgan Stanley in the early 1970s, the firm's annual reports were filled with photographs of factories and other tangible businesses. More recently, Wall Street's annual reports tend to highlight not the businesses that firms were advising so much as finance for the sake of finance, showing upward-sloping graphs and photographs of traders.

"I have the sense that in many of these firms," Mr. Friedman said, "the activity has become further and further divorced from actual economic activity."
Which might serve as a summary of how the current crisis came to pass. Wall Street traders began to believe that the values they had assigned to all sorts of assets were rational because, well, they had assigned them.
For the full story, see:
PETER S. GOODMAN. "Debt Sweat; Printing Money and Its Price." The New York Times, Week in Review Section (Sun., December 28, 2008): 1 & 4.
(Note: ellipsis added.)
Benjamin Friedman's book is:
Friedman, Benjamin M. The Moral Consequences of Economic Growth. New York: Knopf, 2005.