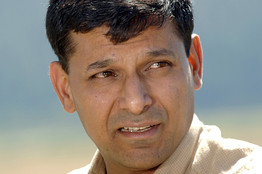 "Raghuram Rajan, shown at 2005 symposium, warned of rising risks." Source of caption and photo: online version of the NYT article quoted and cited below.
I praised Rajan's analysis in a blog entry back in January 2008. Rajan deserves credit for seeing the situation earlier and more clearly than most other experts:
(p. A7) To outline his fears about the U.S. economy, Raghuram Rajan picked a tough crowd.

It was August 2005, at an annual gathering of high-powered economists at Jackson Hole, Wyo. — and that year they were honoring Alan Greenspan. Mr. Greenspan, a giant of 20th-century economic policy, was about to retire as Federal Reserve chairman after presiding over a historic period of economic growth.
Mr. Rajan, a professor at the University of Chicago's Booth Graduate School of Business, chose that moment to deliver a paper called "Has Financial Development Made the World Riskier?"
. . .
He says he had planned to write about how financial developments during Mr. Greenspan's 18-year tenure made the world safer. But the more he looked, the less he believed that. In the end, with Mr. Greenspan watching from the audience, he argued that disaster might loom.
Incentives were horribly skewed in the financial sector, with workers reaping rich rewards for making money, but being only lightly penalized for losses, Mr. Rajan argued. That encouraged financial firms to invest in complex products with potentially big payoffs, which could on occasion fail spectacularly.
. . .
Mr. Rajan is now focused on coming up with ways to avoid a regulatory backlash akin to what happened during the Great Depression, when governments around the world threw up protectionist barriers and clamped down on financial markets.
Instead of heavy regulation, he says, the incentives of Wall Streeters need to change so that punishments for losing money are in line with rewards for earning it.
At the start of 2008, he suggested that bonuses that financial workers make during boom times should be kept in escrow accounts for a period of time. If the firm experienced big losses later, those accounts would be drained.
Facing withering criticism over the bonuses paid out in the boom, financial giant UBS and Wall Street firm Morgan Stanley have recently announced they're adopting policies along the lines of what Mr. Rajan proposed.
Mr. Rajan also urges other safeguards. Along with Chicago colleagues Anil Kashyap and Harvard economist Jeremy Stein, he's come up with a plan to create a form of financial-catastrophe insurance that firms would buy into.
For the full story, see:
JUSTIN LAHART. "Mr. Rajan Was Unpopular (But Prescient) at Greenspan Party." The Wall Street Journal (Fri., JANUARY 2, 2009): A7.
(Note: ellipses added.)