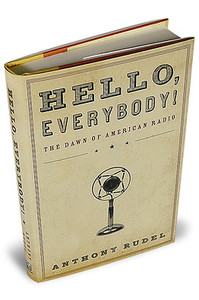 Source of book image: online version of the WSJ review quoted and cited below.
(p. A15) "Hello Everybody!" is at its most valuable when it chronicles the early regulatory fights over the new medium. In the days after World War I, the Navy pushed hard for control of all "wireless" facilities, which were then used primarily used for point-to-point messaging. If the admirals had succeeded in that grab, which was blocked by Congress, the advent of broadcast radio would no doubt have been delayed and the industry might have developed more along the lines of European radio, with a great deal of government control.
For the full review, see:
RANDALL BLOOMQUIST. ""Bookshelf; A Journey Across the Dial." The Wall Street Journal (Thurs., OCTOBER 9, 2008): A15.
The reference to the book under review, is:
Rudel, Anthony. Hello, Everybody! Orlando, FL: Houghton Mifflin Harcourt Publishing Company, 2008.