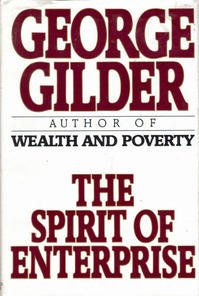 Source of book image:
http://g-ecx.images-amazon.com/images/G/01/ciu/64/17/bc94225b9da0b4326fb8b010.L.jpg
Gilder presents many case studies of entrepreneurs, with plenty of thought-provoking commentary and generalization.
I read the 1984 version because it is the version that is available in audio that can be listened to while walking the dachshund. I also own the 1992 updated version, and can say from a flip-through that this it is a major revision (not just a "revision" that consists of a new introduction, as is often done).
Gilder justly, and eloquently, takes economists to task for generally ignoring the role of the entrepreneur in improving our lives.
For the early edition, see:
Gilder, George. The Spirit of Enterprise. 1 ed. New York: Simon and Schuster, 1984.
For the revised version, see:
Gilder, George. Recapturing the Spirit of Enterprise: Updated for the 1990s. updated ed. New York: ICS Press, 1992.
Source of the book image: http://www.icspress.com/images/recapturing.jpg