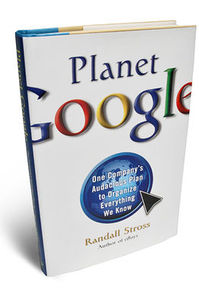 Source of book image: online version of the WSJ review quoted and cited below.
(p. A25) But Messrs. Page and Brin, when they launched Google, had no idea how to make money from it. Two years into their venture, they developed a service that delivered small text ads based on the search terms that a user submitted. As Randall Stross notes in "Planet Google," his even-handed and highly readable history of the company, the service proved to be a turning point in the history of advertising, offering ads tailored for "an audience of one at the one best moment, when a relevant topic was on the user's mind." It also proved to be a goldmine for Google. The company started serving up ads in 2000. In 2002, it had revenues of $400 million; in 2005, $6.1 billion; in 2007, $16.5 billion. Roughly 99% of its income stills springs from those modest text ads that appear at the top of Google's results page.
. . .
Is Google an unstoppable juggernaut fated not only to "organize all information" — as the company has itself put its goal — but to control it as well? Mr. Stross poses the question but does not answer it. He notes that one of Google's ambitions is to usher in an age of "cloud computing," in which all the work we do on our personal computers would actually take place on servers that Google owns. The servers would hold the programs we use and store our data. That image — Google as Skynet from the "Terminator" movies — is a mite unsettling.

Yet the evidence in "Planet Google" suggests that this eventuality is less likely than Googlers might hope. Outside its core search and advertising business, Google has had few successes. Its home-grown products, such as Orkut, Knols and Google Checkout (knockoffs of Facebook, Wikipedia and PayPal, respectively), have largely been failures. Google's biggest successes have come from acquisitions. Google bought YouTube only after its own attempt at video on the Web, Google Video, crashed and burned. And even the "successful" acquisitions that Google has made — Google Earth, Google Maps, Google Docs and Blogger were all purchases, too — have taken up resources without creating significant revenue.
. . .
Remember, people thought that Microsoft was fated to rule the world, too. Today, the once-feared operating-system giant is fighting to stay relevant. And the evolutionary parallels between Google and Microsoft are strikingly similar: Both hit upon a Big Idea at the perfect moment; both parlayed it into a mountain of cash; and both used the money to embark on a string of expansions that paid few dividends. The years have brought Microsoft back to Earth. They'll probably do the same to Planet Google.
For the full review, see:
Last, Jonathan V. "BOOKS; Search for Tomorrow." The Wall Street Journal (Weds., SEPTEMBER 17, 2008): A25.
(Note: ellipses added.)
he book under review is:
Stross, Randall E. Planet Google: One Company's Audacious Plan to Organize Everything We Know. New York: Free Press, 2008.