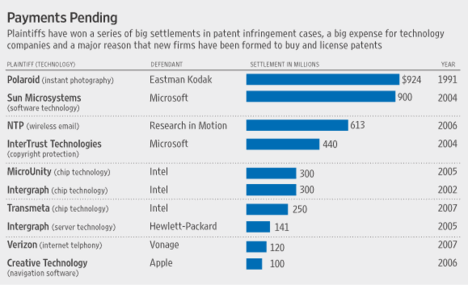 Source of graph: online version of the WSJ article quoted and cited below.
(p. A1) Millionaire Nathan Myhrvold, renowned in the computer industry as a Renaissance man, has a less lofty message for tech companies these days: Pay up.

Over the past few years, the former Microsoft Corp. executive has quietly amassed a trove of 20,000-plus patents and patent applications related to everything from lasers to computer chips. He now ranks among the world's largest patent-holders — and is using that clout to press tech giants to sign some of the costliest patent-licensing deals ever negotiated.
. . .
(p. A21) Mr. Myhrvold says the fact he doesn't make actual products is irrelevant. He stresses that Intellectual Ventures helps small-time inventors by providing them with an aggressive buyer to sell their patents to.
Intellectual Ventures, which has about $5 billion under management, bears some similarities to a private-equity firm that operates investment funds for the benefit of investors. However, its largest fund has an unusual structure in which fund investors are also responsible for the lion's share of the fund's returns.
It works like this: Technology companies agree to pay patent-licensing fees to inoculate themselves against potential lawsuits by Intellectual Ventures. These fees are how the fund generates its returns. As part of the deal, though, these same companies also put up the cash Mr. Myhrvold uses to buy more patents, receiving an equity stake in the fund in return.
For the full story, see:

AMOL SHARMA and DON CLARK. "Tech Guru Riles the Industry By Seeking Huge Patent Fees." The Wall Street Journal (Weds., SEPTEMBER 17, 2008): A1 & A21.
(Note: ellipsis added.)
"Nathan Myhrvold's message for tech firms: Pay up." Source of caption and photo: online version of the WSJ article quoted and cited above.