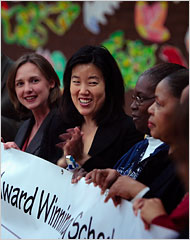 "Michelle Rhee, second from left, with faculty and staff members of Washington schools last month at an awards ceremony." Source of the caption and photo: online version of the NYT article quoted and cited below.
(p. A1) WASHINGTON — Michelle Rhee, the hard-charging chancellor of the Washington public schools, thinks teacher tenure may be great for adults, those who go into teaching to get summer vacations and great health insurance, for instance. But it hurts children, she says, by making incompetent instructors harder to fire.

So Ms. Rhee has proposed spectacular raises of as much as $40,000, financed by private foundations, for teachers willing to give up tenure.

Policy makers and educators nationwide are watching to see what happens to Ms. Rhee's bold proposal. The 4,000-member Washington Teachers' Union has divided over whether to embrace it, with many union members calling tenure a crucial protection against arbitrary firing.
. . .
Ms. Rhee has not proposed abolishing tenure outright. Under her proposal, each teacher would choose between two compensation plans, one called green and the other red. Pay for teachers in the green plan would rise spectacularly, nearly doubling by 2010. But they would need to give up tenure for a year, after which they would need a principal's recommendation or face dismissal.
For the full story, see:
SAM DILLON. "A School Chief Takes On Tenure, Stirring a Fight." The New York Times (Thurs., November 13, 2008): A1 & A19.
(Note: ellipsis added.)