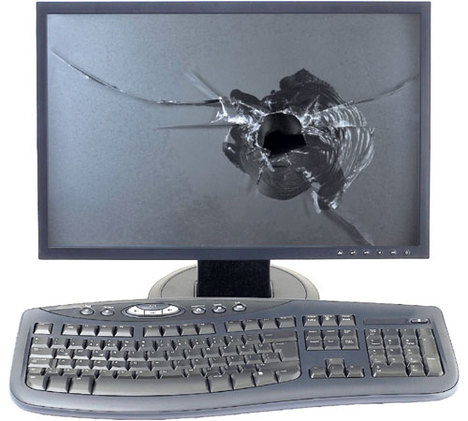 Source of image: online version of the NYT article quoted and cited below.
(p. B1) The dot-com bust earlier in the decade dragged down high-fliers like Sun Microsystems and America Online but set the stage for a new generation of Web powerhouses like Google and other innovative Internet software companies like Salesforce.com, founded on disrupting the status quo.

The recession of the early 1990s sent I.B.M., then the dominant force in technology, into a five-year tailspin. But it also propelled Microsoft and Compaq, later acquired by Hewlett-Packard, and Dell to the forefront of computing.

Indeed, Silicon Valley may be one of the few places where businesses are still aware of the ideas of Joseph Schumpeter, an Austrian economist who wrote about business cycles during the first half of the last century. He said the lifeblood of capitalism was "creative destruction." Companies rising and falling would unleash innovation and in (p. B4) the end make the economy stronger.

Recessions "can cause people to think more about the effective use of their assets," said Craig R. Barrett, the retiring chairman of Intel, who has seen 10 such downturns in his long career. "In the good times, you can get a bit careless or not focused as much on efficiency. In bad times, you're forced to see if there is a technology" that will help.

So who's up, who's down and who's out this time around? Microsoft's valuable Windows franchise appears vulnerable after two decades of dominance. Revenue for the company's Windows operating system fell for the first time in history in the last quarter of 2008. The popularity of Linux, a free operating system installed on many netbooks instead of Windows, forced Microsoft to lower the prices on its operating system to compete.

Intel's high-power processors are also under assault: revenue tumbled by 23 percent last quarter, marking the steepest decline since 1985.

Meanwhile, more experimental but lower-cost technologies like netbooks, Internet-based software services (called cloud computing) and virtualization, which lets companies run more software on each physical server, are on the rise.
For the full story, see:

BRAD STONE and ASHLEE VANCE. "$200 Laptops Break a Business Model." The New York Times (Mon., January 25, 2009): B1 & B4.