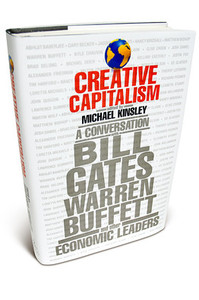 Source of book image: online version of the WSJ review quoted and cited below.
(p. A13) One of the more interesting ideas found in this somewhat rambling book contends that "philanthropic" business activity is in fact at odds with what is best about capitalism itself and thus counterproductive.

Lawrence Summers, the former Harvard president and former Treasury secretary, states the difficulty succinctly: "It is hard in this world to do well. It is hard to do good. When I hear a claim that an institution is going to do both, I reach for my wallet. You should too." He offers as an example Fannie Mae and Freddie Mac, government-created corporations that were supposed to achieve a social goal — affordable housing — while operating as businesses. They did neither well, eventually leaving their catastrophic debts for taxpayers to pay.

U.S. Circuit Court Judge Richard Posner, along with other contributors, notes that companies often suffer losses when they set out to address a social problem. If they could really make a profit by doing good works, the argument goes, they would no doubt already be hard at it. But if they do good works at the expense of profit, they will become less efficient, making themselves more vulnerable to competitors. Economist Steven Landsburg suggests that companies sacrificing profit to accomplish philanthropic goals end up betraying their shareholders, who rightly expect the best return on investment. Sometimes acting philanthropically will result in an indirect business benefit, such as improving worker skills. In that case, philanthro-capitalism might be in a company's interest — but Judge Posner and others of like mind suspect that such instances are rare.

Their skepticism echoes Milton Friedman's objections to "corporate social responsibility," expressed in a 1970 article that is usefully reprinted in the book's appendix.
For the full review, see:

LESLIE LENKOWSKY. "Bookshelf; The Do-Good Marketplace; Reducing poverty, improving lives – maybe 'philanthro-capitalism' is just another name for capitalism." Wall Street Journal (Fri., JANUARY 2, 2009): A13.
The book under review is:
Kinsley, Michael, and Conor Clarke, eds. Creative Capitalism. New York: Simon & Schuster, 2008.