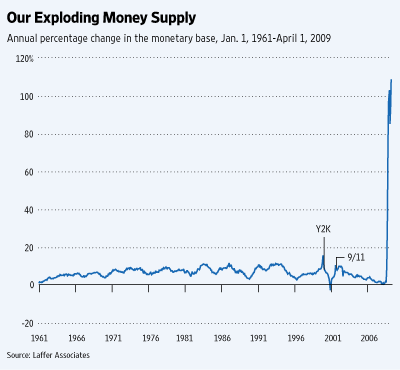 Source of graph: online version of the WSJ article quoted and cited below.
(p. A15) . . . , starting in early September 2008, the Bernanke Fed did an abrupt about-face and radically increased the monetary base — which is comprised of currency in circulation, member bank reserves held at the Fed, and vault cash — by a little less than $1 trillion. The Fed controls the monetary base 100% and does so by purchasing and selling assets in the open market. By such a radical move, the Fed signaled a 180-degree shift in its focus from an anti-inflation position to an anti-deflation position.

The percentage increase in the monetary base is the largest increase in the past 50 years by a factor of 10 (see chart nearby). It is so far outside the realm of our prior experiential base that historical comparisons are rendered difficult if not meaningless. The currency-in-circulation component of the monetary base — which prior to the expansion had comprised 95% of the monetary base — has risen by a little less than 10%, while bank reserves have increased almost 20-fold. Now the currency-in-circulation component of the monetary base is a smidgen less than 50% of the monetary base. Yikes!
. . .

With an increased trust in the overall banking system, the panic demand for money has begun to and should continue to recede. The dramatic drop in output and employment in the U.S. economy will also reduce the demand for money. Reduced demand for money combined with rapid growth in money is a surefire recipe for inflation and higher interest rates. The higher interest rates themselves will also further reduce the demand for money, thereby exacerbating inflationary pressures. It's a catch-22.
It's difficult to estimate the magnitude of the inflationary and interest-rate consequences of the Fed's actions because, frankly, we haven't ever seen anything like this in the U.S. To date what's happened is potentially far more inflationary than were the monetary policies of the 1970s, when the prime interest rate peaked at 21.5% and inflation peaked in the low double digits. Gold prices went from $35 per ounce to $850 per ounce, and the dollar collapsed on the foreign exchanges. It wasn't a pretty picture.
For the full commentary, see:
ARTHUR B. LAFFER. "Get Ready for Inflation and Higher Interest Rates; The unprecedented expansion of the money supply could make the '70s look benign." The Wall Street Journal (Weds., June 10, 2009): A15.
(Note: ellipses added.)