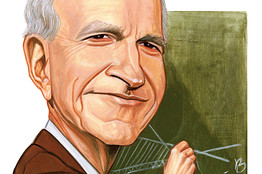 Gary Becker. Source of caricature: online version of the WSJ interview quoted and cited below.
(p. A9) "What can we do that would be beneficial? [One thing] is lower corporate taxes and businesses taxes and maybe taxes in general. Particularly, you want to lower the tax on capital so you raise the after-tax return to investing and get more investing going on."
. . .
What Mr. Becker has seen over a career spanning more than five decades is that free markets are good for human progress. And at a time when increasing government intervention in the economy is all the rage, he insists that economic liberals must not withdraw from the debate simply because their cause, for now, appears quixotic.
As a young academic in 1956, Mr. Becker wrote an important paper against conscription. He was discouraged from publishing it because, at the time, the popular view was that the military draft could never be abolished. Of course it was, and looking back, he says, "that taught me a lesson." Today as Washington appears unstoppable in its quest for more power and lovers of liberty are accused of tilting at windmills, he says it is no time to concede.
For the full interview, see:
MARY ANASTASIA O'GRADY. "OPINION: THE WEEKEND INTERVIEW; Now Is No Time to Give Up on Markets." The Wall Street Journal (Sat., MARCH 21, 2009): A9.
(Note: ellipsis added.)
Gary Becker. Source of photo: http://larryevansphotography.com/Gary%20Becker_2.jpg