"Rhesus monkeys, 27-year-old Canto, left, and Owen, 29, are among the oldest surviving subjects in a study of the links between diet and aging." Source of photo and caption: online version of the WSJ article quoted and cited below.
(p. A3) A study published Wednesday found that rapamycin, a drug used in organ transplants, increased the life span of mice by 9% to 14%, the first definitive case in which a chemical has been shown to extend the life span of normal mammals.

Anti-aging researchers also expect a second study, to be released this week, will show that sharply cutting the calorie intake of monkeys extends their lives substantially. The experiment is said to be the first technique shown to retard aging in primates.
The prospect of a reliable human longevity pill is still distant. A commentary released with the rapamycin study strongly cautioned against taking the drug to prolong life because of potentially deadly side effects. Rapamycin suppresses the immune system and carries strong warnings about the resulting risk of infections and death.
But the mouse and monkey findings appear to mark the most substantial scientific progress yet in the search for ways to extend human life spans — once viewed as a fringe area of study.
"It's time to break out of our denial about aging," said Aubrey de Grey, a British gerontologist who has drawn controversy for his suggestions on how to forestall death. "Aging is, unequivocally, the major cause of death in the industrialized world and a perfectly legitimate target of medical intervention."
For the full story, see:
KEITH J. WINSTEIN. ""Two Mammals' Longevity Boosted; Transplant Drug Lengthens Lives of Mice, and Fewer Calories Benefit Monkeys." The Wall Street Journal (Thurs., JULY 10, 2009): A3.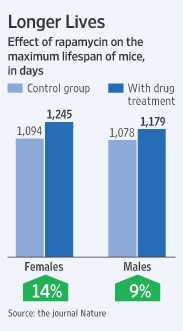 Source of graphic: online version of the WSJ article quoted and cited above.