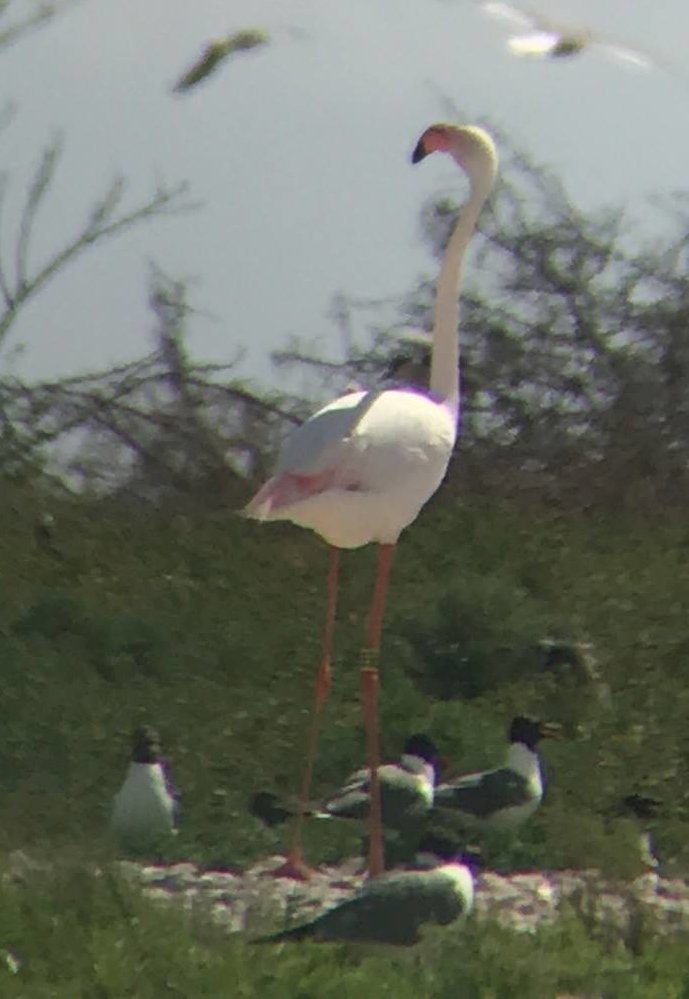 (p. A13) That can't be right.

A flamingo? In South Texas?

Ben Shepard, in the first week of his summer internship with the Texas Parks and Wildlife Department, thought it must have been something else.

. . .

Mr. Shepard had the rare pleasure of spotting No. 492, an African flamingo that, for more than a decade, has shown you can still survive when no one gets around to clipping your wings.

. . .

In June 2005, on a very windy day in Wichita, a guest reported seeing two flamingos out of their enclosure. No. 492 and No. 347 had flown out; the staff had missed the signs that their feathers needed to be clipped again.

Each attempt to approach the flamingos spooked them. Soon they flew away to a drainage canal on the western side of Wichita, where they remained under observation of park officials for a week, Mr. Newland said.

They couldn't get closer than 50 yards away from the birds, and were stumped on how to get them back. Perhaps they could try in the cover of night, using a spotlight to disorient them.
They never got the chance. July 3 brought a terrible thunderstorm. And on July 4 — Independence Day, . . . — the birds were gone.

. . .

But great fortune was ahead for No. 492. Soon after it arrived in Texas, it found an unlikely companion: a Caribbean flamingo that, Mr. Newland speculates, may have been blown into the Gulf during a tropical storm. They were seen together as early as 2006 and as recently as 2013.

"Even though they're two different species, they are enough alike that they would have been more than happy to see each other," he said. "They're two lonely birds in kind of a foreign habitat. They're not supposed to be there, so they have stayed together because there's a bond."

Though they're often referred to as mates, no one knows the sex of either bird. And Mr. Newland said the fact that they're roughly the same height suggests they're likely to be the same sex.

. . .

"It's less about animals escaping from a zoo than how resilient the animals on our planet are," he said.
For the full story, see:
Daniel Victor. "Flamingo, After Cinematic Escape and Years on the Run, Is Spotted in Texas." The New York Times (Thursday, June 28, 2018): A13.
(Note: ellipses added.)
(Note: the online version of the story has the date June 27, 2018, and has the title "A Flamingo? In Texas? A Zoo Fugitive Since 2005 Is Still Surviving in the Wild." Where the wording differs between versions, the quotes above follow the somewhat more detailed online version.)