The first "Mulan" below is the Disney actress Liu Yifei, who has expressed support for the suppression of freedom in Hong Kong. The third "Mulan" below is Agnes Chow, the 23 year-old Hong Kong freedom activist who the Beijing communists arrested under their new Hong Kong "security" law.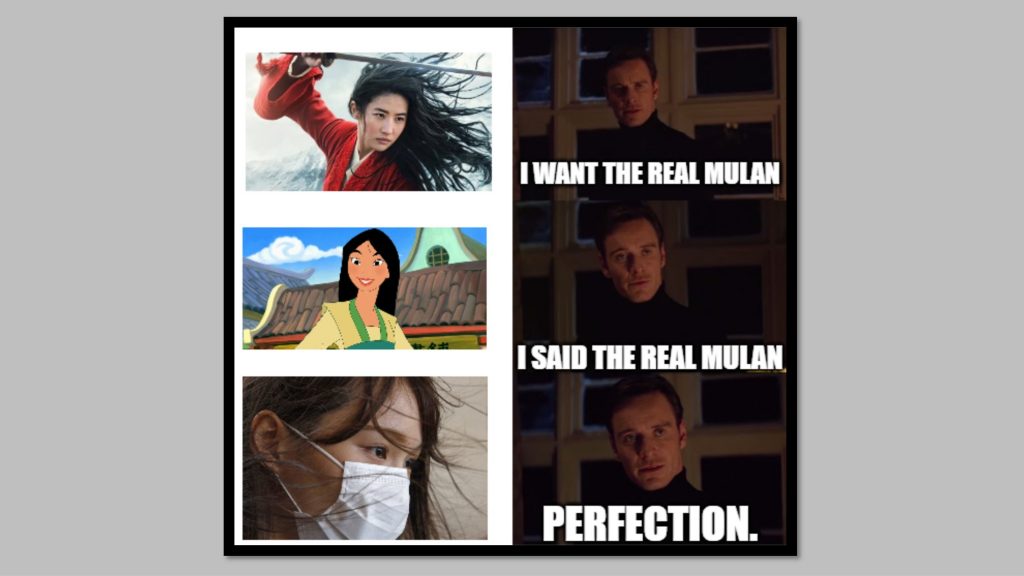 (p. A10) HONG KONG — Soon after one of Hong Kong's best-known democracy activists was arrested this week under the national security law imposed on the city by the Chinese government, supporters turned her into a "Mulan" meme.

The social media storm around the activist, Agnes Chow, coincided with Disney's online campaign for its upcoming movie "Mulan," about the Chinese folk heroine who disguises herself as a man to stand in for her ailing father in the army. Disney's slogan: "The legend arrives."

Supporters on Twitter quickly anointed Ms. Chow, 23, "the real Mulan." One meme featured three images, each accompanied by text: the "Mulan" star Liu Yifei ("I want the real Mulan"); the cartoon version of Mulan from Disney's animated 1998 film ("I said the real Mulan"); and Ms. Chow ("Perfection").

. . .

Ms. Chow, a former leader of the now-disbanded pro-democracy group Demosisto, was among 10 people arrested on Monday [August 10, 2020] on suspicion of violating the security law. She was detained hours after 200 police officers converged on the newsroom of Apple Daily, a publication owned by the media mogul Jimmy Lai, who is a vocal critic of the Chinese government. He, his two sons and other executives from his company were arrested.

. . .

Ms. Liu, the Chinese actress who plays Mulan in the movie, drew a backlash last August when she sided with the Hong Kong police against the protesters on the microblogging platform Weibo, where she had nearly 66 million followers at the time. The police have been accused of excessive force in dealing with the protests.

When Ms. Liu shared the quote "I support the Hong Kong police, you all can beat me up now," adding a heart and a bicep emoji, the blowback was swift, with supporters of the protests calling for a boycott of "Mulan."
For the full story, see:
Elaine Yu. "Supporters of Activist in Hong Kong Draft Mulan." The New York Times (Friday, August 14, 2020): A10.
(Note: ellipses added.)
(Note: the online version of the story has the date August 13, 2020, and has the title "After Agnes Chow Is Arrested in Hong Kong, a 'Mulan' Meme Is Born." Where there are slight differences in wording between the versions in the passages quoted, the online version appears above. The online version does not list an author. I cite James Barron, who is listed as the author in the print version.)