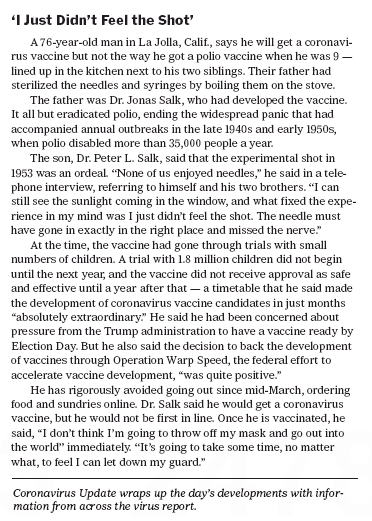 (p. A4) A 76-year-old man in La Jolla, Calif., says he will get a coronavirus but not the way he got a polio vaccine when he was 9 — lined up in the kitchen next to his two siblings. Their father had sterilized the needles and syringes by boiling them on the stove.

The father was Dr. Jonas Salk, who had developed the vaccine.

. . .

At the time, the vaccine had gone through trials with small numbers of children. A trial with 1.8 million children did not begin until the next year, and the vaccine did not receive approval as safe and effective until a year after that — a timetable that he said made the development of coronavirus vaccine candidates in just months "absolutely extraordinary." He said he had been concerned about pressure from the Trump administration to have a vaccine ready by Election Day. But he also said the decision to back the development of vaccines through Operation Warp Speed, the federal effort to accelerate vaccine development, "was quite positive."
For the full story, see:
Barron, James. "Coronavirus Update; 'l Just Didn't Feel the Shot'." The New York Times (Wednesday, November 18, 2020): A4.
(Note: ellipsis added.)
(Note: after considerable time spent searching, I was unable to find this article on the nytimes.com web site. I searched on 11/21/20 for the article that had appeared in-print on 11/18/20. In my experience, it is extremely rare for so recent a print article to be missing from the online web site. So, for documentary purposes, I have reproduced a screen capture of the article from the Replica Edition. (For subscribers to the NYT, The Replica Edition provides an online replica of the print edition for the previous 30 days of issues of the NYT.)