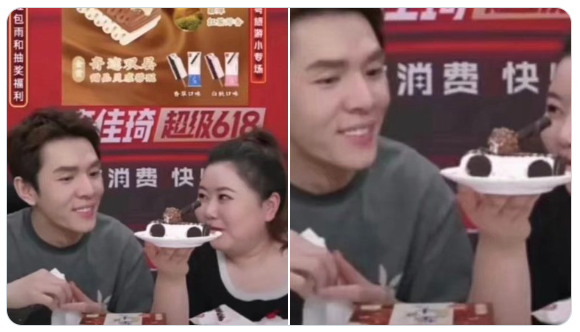 (p. A9) HONG KONG—One of China's biggest online influencers stepped on a political land mine while promoting an ice-cream product on Friday. In the process, he set off a wave of curiosity about the government's bloody 1989 crackdown on Tiananmen Square protesters among hordes of fans too young to remember it.

. . .

Mr. Li was promoting Viennetta, a British brand of ice cream made by Unilever, around 9 p.m. on Friday [June 3, 2022]. He and a co-host presented a layered ice cream decorated with round cookies placed along its sides, and topped off with what appeared to be a chocolate stick. Almost immediately, the live show went offline.

To some viewers, the reason for the cutoff was obvious: The dessert sculpture resembled a tank—a sensitive symbol of the Chinese military's killing of pro-democracy protesters on June 4, 1989, made all the more potent by the iconic image of an anonymous Beijing man facing down a line of them in the wake of the massacre.

. . .

To large numbers of Mr. Li's other 170 million followers, many of whom were born after 1989 and talk vastly more about shopping than politics, the show's suspension was puzzling.

. . .

Some of Mr. Li's fans stumbled upon a 1989 document posted on the central government's website describing the event as a violent riot that caused the deaths of many soldiers, and posted a link to it online. Many ended their posts with an endorsement of the Communist Party.

Several fans complained that their Weibo accounts were frozen after they posted information that they had dug up about Tiananmen Square.
For the full story, see:
Wenxin Fan. "Ice Cream Sets Off China's Censors." The Wall Street Journal (Monday, June 6, 2022): A9.
(Note: ellipses, and bracketed date, added.)
(Note: the online version of the story was updated June 5, 2022, and has the title "Chinese Influencer's Ice-Cream Pitch Inadvertently Introduces Fans to Tiananmen Square Massacre.")