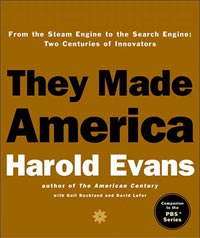 Source of book image: http://www.mikemilken.com/fincareer.taf?page=they_made_america
Was it a difference in "innovative energies" that mattered, or was it a difference in institutions and incentives?
(p. 11) This crucial difference between invention and innovation was borne in on me on my return to England in 1957. As a young science reporter, I visited the government-funded National Physical Laboratory at Teddington, and they showed where their senior researcher Robert Watson Watt had in 1935 invented the radar system that was to help the Royal Air Force win the battle of Britain. His former colleagues remarked with chagrin on how swiftly this British invention had been taken up and exploited in the United States after 1939, laying the foundation for the great electronics industry. It was the same story with antibiotics, following Alexander Fleming's 1928 discovery of penicillin; with Maurice Wilkes's pioneering efforts in developing the first commercial application of the computer at the offices of J. Lyons and Company in 1951 and with the jet engine. All of these British inventions were superseded by the innovative energies of America.
Source:
Evans, Harold. They Made America: Two Centuries of Innovators from the Steam Engine to the Search Engine. New York: Little, Brown and Co., 2004.