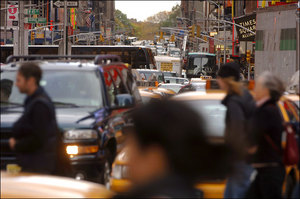 Traffic congestion on 7th Avenue near Times Square. Source of photo: online version of the NYT article quoted and cited below, downloaded at: http://www.nytimes.com/2005/11/11/nyregion/11traffic.html
(p. A23) It is an idea that has been successful in London, and is now being whispered in the ears of City Hall officials after months of behind-the-scenes work by the Partnership for New York City, the city's major business association: congestion pricing.

The idea is to charge drivers for entering the most heavily trafficked parts of Manhattan at the busiest times of the day. By creating a financial incentive to carpool or use mass transit, congestion pricing could smooth the flow of traffic, reduce delays, improve air quality and raise the speed of crawling buses.
Source:
SEWELL CHAN. "Driving Around in Busy Manhattan? You Pay, Under Idea to Relieve Car Congestion." The New York Times (Friday, November 11, 2005): A23.