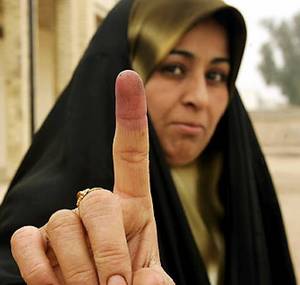 Iraqi woman with purple ink on finger, indicating she has voted. (Photo by Matt Dunham/AP; photo source: http://www.nytimes.com/packages/html/international/20051216_IRAQ_FEATURE/blocker.html)
Optimistic news on Iraq appears on the first page of the Fri., Dec. 16, 2005 New York Times (not often identified as a lackey supporter of Bush administration foreign policy). Here is an excerpt from the article:
(A1) BAGHDAD, Iraq, Dec. 15 – Ali is only 9 years old. But when he and his buddies broke away from a street soccer game to drop into a polling station in Baghdad's Adhamiya district at noon on Thursday, Ali, a chirpy, tousle-haired youngster, seemed to catch the mood of the district's Sunni Arab population as well as anybody.
"We don't want car bombs, we want security," he said. Yards away, Sunni grown-ups were casting ballots in classrooms where the boys would have been studying Arabic or arithmetic or geography – "Boring, boring!" said Ali – had the school not been drafted for use as one of 6,000 polling stations across Iraq.
On a day when the high voter turnout among Sunni Arabs was the main surprise, Ali and his posse of friends, unguarded as boys can be, acted like a chorus for the scene unfolding about them. A new willingness to distance themselves from the insurgency, an absence of hostility for Americans, a casual contempt for Saddam Hussein, a yearning for Sunnis to find a place for themselves in the post-Hussein Iraq – the boys' themes were their parents', too, only more boldly expressed.
. . .
(A15) "Before, we had a dictator, and now we have this freedom, this democracy," said Emad Abdul Jabbar, 38, a teacher acting as supervisor at the Ahrar school polling site. "This time, we have a real election, not just the sham elections we had under Saddam, and we Sunnis want to participate in the political process."
A 60-year-old merchant, Abdul Kader al-Saffar, and his wife, Ammal Abdul Razzaq, 40, who voted with their three sons, agreed. "We have found candidates in this election we can trust," Mr. Saffar said, referring to the Iraqi Consensus Front, a moderate Sunni group that had several of its political workers killed during the campaign.
Another thing many Sunnis seemed to agree on was the possibility of a reconciliation between the Americans and the Sunnis, and a distancing of the Sunnis from some of the Al Qaeda-linked insurgent groups. Many were critical of American troops, saying, as Mr. Saleh did, that "they came as liberators, but stayed on as occupiers." But pressed on the question of an American troop withdrawal, most seemed cautious, favoring a gradual drawdown.
"Let's have stability, and then the Americans can go home," said Mr. Sattar, the store owner. Told that this sounded similar to President Bush's formula for a troop withdrawal, he replied: "Then Bush has said it correctly".
For the full article, see:
JOHN F. BURNS. "Freedom From Fear Lifts Sunnis in Iraqi Election." The New York Times (Fri., December 16, 2005): A1 & A15.