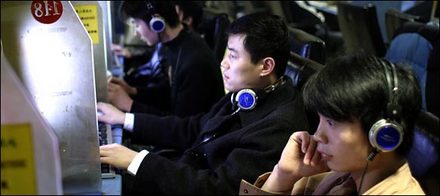 Surfing the web at a Shanghai internet cafe. Source of image: the NYT article cited below.
At lunch a couple of weeks ago some of us in the department discussed Google's agreeing to China's desire to censor some searches. Some view this as Google violating its corporate motto: "don't be evil."
But I suspect that Chinese citizens with a hobbled Google, have more freedom than Chinese citizens with no Google at all.
There are many alternative ways to search for "freedom." No government is clever enough to block them all.
SHANGHAI, Feb. 7 — For months now, the news about the news in China has been awful. Carrying out its vow to tighten controls over what it calls "propaganda," the government of President Hu Jintao has busied itself closing publications, firing editorial staffs and jailing reporters.
More noticeably, the government has clamped down on the Internet, closing blogger sites, filtering Web sites and e-mail messages for banned words and tightening controls on text messages. Last year, Yahoo was criticized for revealing the identity of an Internet journalist, Shi Tao, who was subsequently jailed. [On Wednesday, the Committee to Protect Journalists said court documents posted on a Chinese Web site showed that Yahoo had done the same in 2003, resulting in the jailing of another writer, Li Zhi.]
Against this grim backdrop, the news that Google had agreed to apply censors' blacklists to its new Chinese search engine might have seemed like the ultimate nail in the coffin for freedom of information in this country. Chinese Internet mavens were outraged at Google for collaborating in the government's censorship effort. "For most people, access to more diversified resources has been broken," said Isaac Mao, a popular Chinese blogger, in a typical sentiment. "The majority of users, the new users, will only see a compressed version of Google, and can't know what they don't know. This is like taking a 30-year-old's brain and setting him back to the mind of a 15-year-old."
Some threatened that Internet companies that toed the government line would regret it someday. "Doing the bidding of the Chinese government like this is like doing the bidding of Stalin or Hitler," said Yu Jie, a well-known dissident writer. "The actions of companies that did the bidding of Stalin and Hitler have been remembered by history, and the Chinese people won't forget these kinds of actions, either."
Whether Chinese will hold a long-term grudge is arguable. But Web specialists are far more confident that the government will fail in its efforts to reverse a trend toward increasingly free expression that has been reshaping this society with ever more powerful effects for more than two decades.
Last year, China ranked 159th out of 167 countries in a survey of press freedom, Reporters Without Borders, the Paris-based international rights group, said. But rankings like this do not reflect the rapid change afoot here, more and more of which is escaping the government's control.
A case in point is the Chinese government's recent effort to rein in bloggers who tread too often into delicate territory, criticizing state policy or detailing official corruption. In December, the government ordered Microsoft and its MSN service to close the site of Michael Anti, one of China's most popular bloggers.
Although Mr. Anti — who is also an employee of the Beijing bureau of The New York Times — had his site closed, any Chinese Web surfer can choose from scores of other online commentators who are equally provocative, and more are coming online all the time.
Microsoft alone carries an estimated 3.3 million blogs in China. Add to that the estimated 10 million blogs on other Internet services, and it becomes clear what a censor's nightmare China has become. What is more, not a single blog existed in China a little more than three years ago, and thousands upon thousands are being born every day — some run by people whose previous blogs had been banned and merely change their name or switch Internet providers. New technologies, like podcasts, are making things even harder to control.
"The Internet is open technology, based on packet switching and open systems, and it is totally different from traditional media, like radio or TV or newspapers," said Guo Liang, an Internet specialist at the Chinese Academy of Social Sciences. "At first, people might have thought it would be as easy to control as traditional media, but now they realize that's not the case."
. . .
"Symbolically, the government may have scored a victory with Google, but Web users are becoming a lot more savvy and sophisticated, and the censors' life is not getting easier," said Xiao Qiang, leader of the Internet project at the University of California, Berkeley. "The flow of information is getting steadily freer, in fact. If I was in the State Councils information office, I certainly wouldn't think we had any reason to celebrate."
For the full story, see:
HOWARD W. FRENCH. "Letter From China; Despite Web Crackdown, Prevailing Winds Are Free." The New York Times (Thurs., February 9, 2006): A4.