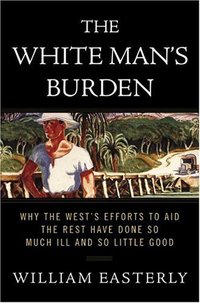 Source of book image: http://www.amazon.com/gp/product/1594200378/sr=8-1/qid=1143511279/ref=pd_bbs_1/102-0403843-7507349?%5Fencoding=UTF8
A professor at New York University and a senior fellow at the Center for Global Development, Easterly spent most of his career as an economist at the World Bank. He had to leave that job after publishing his iconoclastic 2001 book, "The Elusive Quest for Growth," which skillfully combined a history of economists' growth theories with a devastating empirical analysis of the failure of international efforts to spur third world development. The book's theme was "incentives matter."
In "The White Man's Burden," Easterly turns from incentives to the subtler problems of knowledge. If we truly want to help the poor, rather than just congratulate ourselves for generosity, he argues, we rich Westerners have to give up our grand ambitions. Piecemeal problem-solving has the best chance of success.
He contrasts the traditional "Planner" approach of most aid projects with the "Searcher" approach that works so well in the markets and democracies of the West. Searchers treat problem-solving as an incremental discovery process, relying on competition and feedback to figure out what works.
. . .
"The White Man's Burden" does not match "The Elusive Quest for Growth" as a tour de force. Easterly is doing something harder here: not merely cataloging past failures but trying to suggest a more promising approach. Unfortunately, his alternative is still underdeveloped, devolving at times into slogans.
After all, Searchers plan, too. The question is not whether to plan, but who makes the plans, how they are changed and where feedback comes from. "The White Man's Burden" underplays the essential role of competition, not only in markets but between political jurisdictions.
For the full review, see:
VIRGINIA POSTREL. "The Poverty Puzzle." The New York Times, Section 7 (Sun., March 19, 2006): 12.
For Easterly's latest book, see:
Easterly, William. The White Man's Burden: Why the West's Efforts to Aid the Rest Have Done So Much Ill and So Little Good. The Penguin Press, 2006. 436 pp. $27.95.