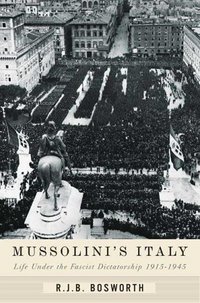 Source of image of book cover: Amazon.com.
Some experts on National Socialism have concluded that its economy was not as efficient as usually believed. According to a recent expert, facism also was not a very efficient economic system (in spite of its oft-mentioned reputation for the trains running on time):
(p. B36) Yet for all the personality cult, the regime's most notable achievement, as Mr. Bosworth sees it, was that it survived as long as it did. Virtually irrespective of where it set its sights — culture, science, economics, let alone the military — its performance persistently fell short of its discredited Liberal predecessor's.

Note: in the review, "liberal" refers to 19th-century liberals. E.g.:
(p. B36) Like their 19th-century peers from Belgium to Romania, Italian Liberals yearned for a common flag, parliament, economy, identity, even empire. To a point, the truths held to be self-evident north of the Alps worked in Italy, too. But the transition to constitutional government was a work in progress, where progress needed all the help it could get.
By 1914, it was clear that it would take more than a constitutional monarchy, a railroad, a gold-based currency and African colonies to overcome the limits imposed by geography, culture and history. Eager to play with the big powers, Italians were not only poor, illiterate and economically underdeveloped, they were also allergic to any state, modern or otherwise. This would include dictatorship.
For the full review, see:
DAVID SCHOENBAUM. "Books of The Times | 'Mussolini's Italy'; Where Fascism Was Stylish and Vicious, if Ineffectual." The New York Times (Fri., March 3, 2006): B36.
The book is:
R. J. B. Bosworth. MUSSOLINI'S ITALY: Life Under the Fascist Dictatorship, 1915-1945. Penguin Press, 2006. Illustrated. 692 pages. $35. ISBN: 1594200785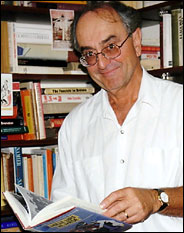 R.J.B. Bosworth. Source of image: NYT book review quoted and cited above.