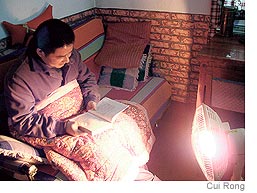 Li Qiao tries to stay warm in unheated apartment in Wuhan. Source of image: online version of WSJ article cited below.
(p. B1) WUHAN, China — As a winter wind howled through this central Chinese city, university lecturer Li Qiao settled down in his two-bedroom apartment for what should have been a cozy evening of reading. Around his apartment were signs of China's new prosperity: a color television, refrigerator, washing machine and air conditioner. The only thing missing: heating.
Even though winter temperatures in Wuhan dip into the 30s with occasional snow, virtually none of the city's homes are heated. "The cold is cutting into my bones," lamented Mr. Li, who was bundled up in a down coat and a quilt, with an electric heater blowing warm air toward him. "Why doesn't Wuhan have heating?"
Mr. Li isn't the only one asking. Heating systems are one of the last areas that remain under China's former centrally planned economy, with government regulators still setting the thermostat for homes, classrooms and offices across the country. Under the policy, which dates back to Mao Zedong in the 1950s, the government provides heat in the northern half of China, and, to save money, it provides no heat in the southern half. As a result, northerners often wilt in steaming apartments, while those in southern provinces shiver through the winter.
With no heat, even residents of modern cities like Shanghai spend much of the winter trying to get warm.
. . .
(p. B2) Mr. Li, the university teacher, and his wife ward off the cold air that seeps into their apartment at the university with an electrical heater, a hot-air fan and a wall unit air-conditioner that also blows out heat. At night, they wriggle into long underwear before piling under two sets of thick quilts. Although he has a three-hour lunch break, Mr. Li seldom goes back to his apartment, opting instead to hole up in his heated office.
His students aren't so lucky. Classrooms aren't heated, so they listen to his lectures swathed in down jackets, caps and gloves. Some students even carry hot-water bottles to keep their hands warm and cushions to place on the icy chairs.
For the full story, see:
Cui Rong. "China's Winter of Discontent; Mao-Era Policy Provides Heat Up North but None in South; Shivering Citizens Are Fed Up." The Wall Street Journal (Tues., March 14, 2006): B1 & B2.


Source of graphic: online version of WSJ article cited above.