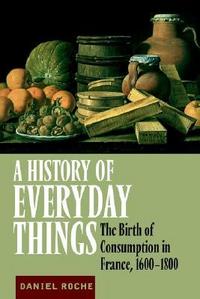 The source for the image of the book cover is: http://img.textbookx.com/images/large/91/0521633591.jpg
Roche delineates minimal light and exiguous fires, chilblains and miasmas, the distinction of white linen, the rare treat of sweetness, the still rarer taste of coffee that made its drinkers sparkle, and the hankerings they inspired. Limited access to water affected drinking habits, cooking, hygiene, and sartorial practices. Housewives and laundresses coped with mountains of dirty linen by river or by pond; the great sent their laundry to the American islands for a whiter wash; the poor rioted for soap as well as bread. Society moved from an economy of scarcity and salvation to one of plenty and prodigality. But the move was slow and spotty. The world we have lost was ripe for rejection.
For the full review, see:
Weber, Eugen. "Recommended Reading." The Key Reporter 67, no. 2 (Winter 2002): 12.
The reviewed book is:
Roche, Daniel. A History of Everyday Things: The Birth of Consumption in France, 1600-1800. Cambridge University Press, 2000.