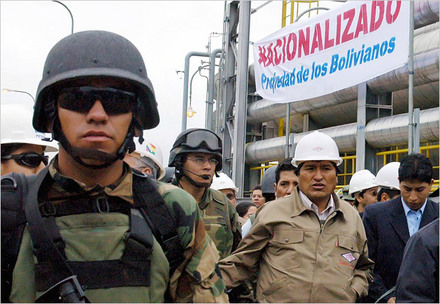 Bolivian President Morales announcing the nationalization of Bolivia's energy industry. Source of image: http://www.nytimes.com/2006/05/03/world/americas/03bolivia.html
Bolivia's nationalization of its energy industry, announced Monday by President Evo Morales, was a vivid illustration that the populist policies, championed most prominently by Venezuela, were spreading.

. . .

. . . while Brazil might feel tremors from Bolivia's decision, it is Bolivia that may be risking its potential as a major natural gas exporter.

Companies had been holding off on investments in Bolivia for some time, unnerved by growing talk of precisely the kind of step that Mr. Morales took this week. Foreign direct investment, much of which goes to energy and mining, fell to $103 million in 2005, from $1 billion in 1999.

What is more, unlike oil, natural gas is not easily exportable, with costly liquefaction facilities, customized tankers or pipelines needed to take the fuel to markets. Chile, a potential market for Bolivian gas, may choose instead a project to import the fuel from as far away as Africa.

Even Brazil, while now reliant on Bolivian gas, has recently discovered large offshore gas reserves of its own. Thus the window of opportunity for Bolivia to become a leading gas exporter may be closing, even as it grows more courageous in its dealings with foreigners.

"If Brazil decides to give the cold shoulder to Bolivia," said Carlos Alberto López, an independent consultant for oil companies in La Paz, "Bolivia will be left with its gas underground."
For the full story, see:
SIMON ROMERO and JUAN FORERO. "Bolivia's Energy Takeover: Populism Rules in the Andes." The New York Times (Weds., May 3, 2006): A8.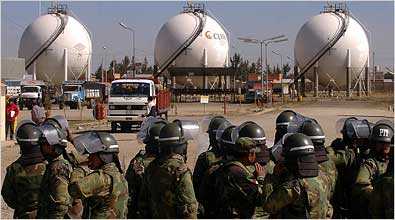 Bolivian soldiers after seizing natural gas facilities. Source of image: http://www.nytimes.com/2006/05/03/world/americas/03bolivia.html