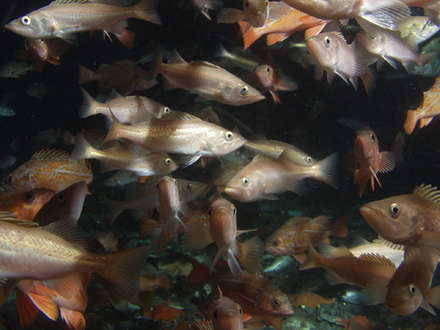 Large numbers of rockfish and other fish near the Gilda oil platform off the Ventura coast. Source of image: http://www.lovelab.id.ucsb.edu/Check.html
SANTA BARBARA, Calif., March 11 – A marine biologist has found that 27 oil platforms off California's Central Coast may be havens for bocaccio, cowcod and other fish.

. . .

Since the 1950's, when heavy fishing began in the region, some species have been reduced to 6 percent of their previous numbers, Dr. Love said. Overfishing has led to an economic disaster, leading some fisheries to close.

Dr. Love films fish around the platforms from a submarine and then counts them in his laboratory.

Among his findings are that large fish prefer crevices at the platforms' base, and smaller ones like the middle section above their predators.

At Platform Gail, which stands in 739 feet of water nine miles off the Ventura coast, Dr. Love found what he believes to be the highest density of two species of overfished rockfish in Southern California.

Dr. Love emphasizes that his research does not draw conclusions about whether the platforms should be removed. He says his personal view is that the rigs should stay in place, cut below the waterline so that ships can pass safely over them.

Dr. Love gets about 80 percent of his research money from the government, and the rest from the California Artificial Reef Enhancement Program, a Sacramento nonprofit group financed almost entirely by oil companies. The group has contributed about $100,000 a year to his research since 1999, said its executive director, George Steinbach. Dr. Love said oil industry money could not sway his research.
For the full story, see:
"Citing Oil Rigs as Fish Havens, Companies Resist Removal." The New York Times (Mon., March 13, 2006): A18.